WWII Curtiss-Wright Production Soldier 100% Lapel Pin in Sterling Silver
Code: aco20004cw7
SOLD!!! No Longer Available!
---
Product Description
•••••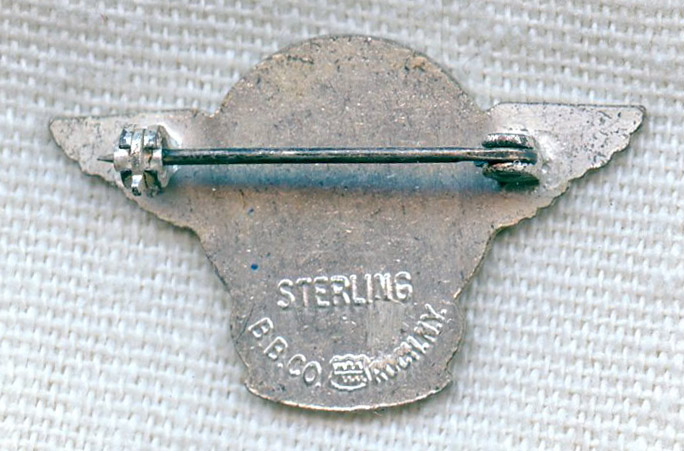 ARTIFACT: This is a World War II Curtiss-Wright "Production Soldier" 100% pin in sterling silver. Curtiss-Wright began in 1929 when Curtiss Aeroplane and Motor Company of Buffalo, New York, and Wright Aeronautical of Dayton, Ohio merged. The pin is a petite wing by Bastian Brothers of Rochester, New York.
VINTAGE: Circa World War II.
SIZE: Approximately 5/8" in height and 1" in width.
CONSTRUCTION/MATERIALS: Sterling silver with enamel.
ATTACHMENT: Vertical pin with drop-in locking swivel catch.
MARKINGS: STERLING B.B. CO. (Bastian Bros.) ROCH., N.Y., union mark.
ITEM NOTES: This is from an aviation company collection which we will be listing more of over the next few months. VAJX11 LEEX12/11 SeVHJX12/20
CONDITION: 8- (Very Fine-Excellent): The pin shows only some very tiny spots of light wear.
GUARANTEE: As with all my items, this piece is guaranteed original.