1920s-1930s Horlick's Malted Milk Lunch Tablets Bottle
Code: advd10011
ON HOLD!! Not Currently Available!
---
Product Description
•••••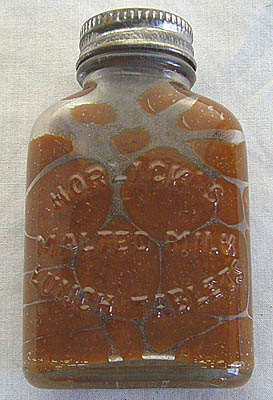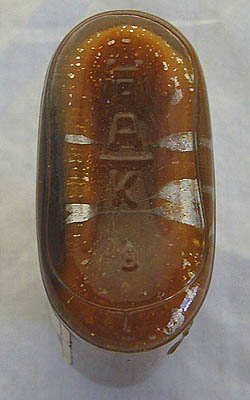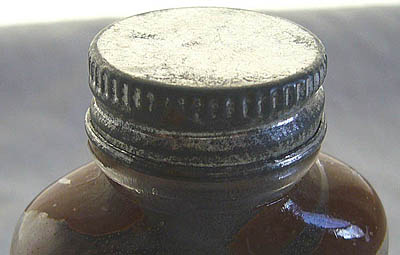 ARTIFACT: This is an old bottle for Horlick's Original Malted Milk Lunch Tablets with the contents; however, the contents appear to have melted together (smells good, though!). At the time, the price on the label was 10 cents! J&W Horlicks was started in 1873 in Chicago, Illinois by two brothers from Britain. The Horlick's malted milk product was popular with the average citizen, but was also used to nourish babies, the ailing and even United States soldiers during World War II.
VINTAGE: Circa 1920s-1930s.
SIZE: Bottle: about 2-1/8" in width by 1" in depth by 3-1/2" in height.
CONSTRUCTION/MATERIALS: Glass bottle, printed paper label, steel lid and malted milk tablets (see image of label for ingredients).
ATTACHMENT: None.
MARKINGS: On label: M.M. TRADE MARK HORLICK'S MALTED MILK; on bottom of bottle: HAAK 8.
ITEM NOTES: This is from a large dairy advertising collection which we will be listing more of over the next few months. LBEX HdBEX2/13
CONDITION: 7+ (Very Fine+): Very minor wear to the bottle; the label has very minor wear to the edges; lid has minor to moderate wear, a small dent in the top and a couple very small, minor rust spots.
GUARANTEE: As with all my items, this piece is guaranteed original.