Circa 1900 Horlick's Malted Milk Advertising Litho Celluloid Pin by Whitehead & Hoag
Code: advd00011
---
Product Description
•••••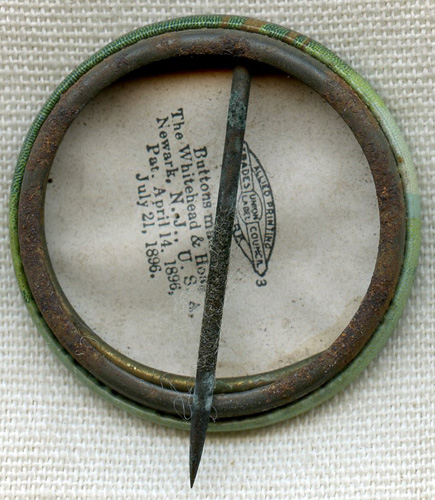 ARTIFACT: This is a circa 1900 lithographed celluloid advertising pin for Horlick's Malted Milk. J&W Horlicks was started in 1873 in Chicago, Illinois by two brothers from Britain. The Horlick's malted milk product was popular with the average citizen, but was also used to nourish babies, the ailing and even United States soldiers during World War II. The nicely colored design of the pin is a dairy maid with her favorite cow.
VINTAGE: Circa 1900.
SIZE: Approximately 1-1/4" in diameter.
CONSTRUCTION/MATERIALS: Lithographed celluloid, paper backing.
ATTACHMENT: Straight pin.
MARKINGS: Union mark; BUTTONS MADE BY THE WHITEHEAD & HOAG CO. NEWARK, N.J. U.S.A. PAT. APRIL 14, 1896, JULY 21, 1896.
ITEM NOTES: This is from a dairy advertising collection which we will be listing more of over the next few months. ebay REL93 LBHX9/12
CONDITION: 6- (Fine): The pin has a split through the middle of the celluloid and some oxidation along the reverse edge and pin.
GUARANTEE: As with all my items, this piece is guaranteed original.