Vintage 1930s Seagram's Whiskies Bottle Pourer
Code: advb10000
SOLD!!! No Longer Available!
---
Product Description
•••••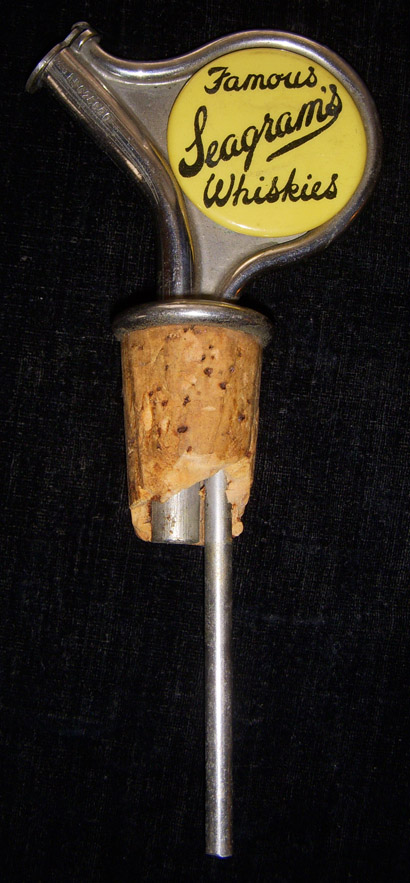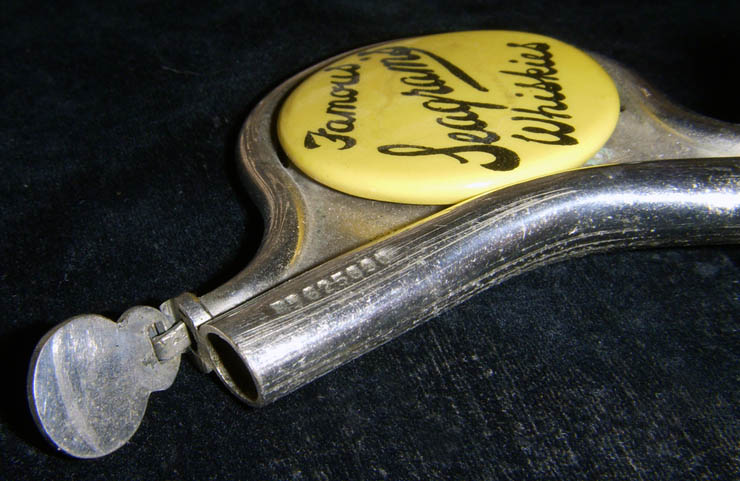 ARTIFACT: This is a Seagramís bottle pourer made in England from the 1930s. Seagramís was a Canadian company, and well-poised to sell whiskies to the over-dry neighboring US market at the close of Prohibition. The pourer consists of a hollow metal tube passing through a cork stopper and up to the end, which is covered by a round swiveling flap. A bright yellow celluloid medallion reads FAMOUS SEAGRAMíS WHISKIES in black script.
VINTAGE: Circa 1930s.
SIZE: Approximately 5-5/8Ē in height and 2-7/16Ē in width.
CONSTRUCTION/MATERIALS: Nickel-plated brass, celluloid, cork.
ATTACHMENT: N/A.
MARKINGS: RD 625830 and MADE IN ENGLAND.
ITEM NOTES: This is from a beverage-related collection which we will be listing more of over the next few months. ebay SHOP VAJL93 VCEX12/10 SBEX6/15
CONDITION: 7+ (Very Fine+): Pourer shows light to medium wear and there is a small missing piece of cork near the bottom of the stopper.
GUARANTEE: As with all my items, this piece is guaranteed original.