Great 1900 Guinness Extra Stout (E & J Burke Bottler) Bottle Opener
Code: advb00025gbo
SOLD!!! No Longer Available!
---
Product Description
•••••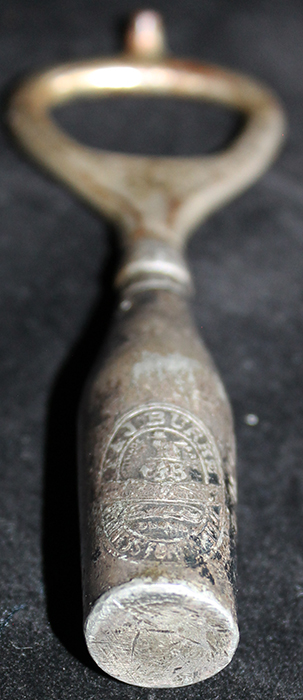 ARTIFACT: Great circa 1900 Guinness's Extra Stout (E & J Burke Bottler) advertising bottle opener in silver plated cast iron and white metal. The base of the early, figural, beer bottle opener is in the shape of a Guinness beer bottle and reads: "GUINNESS EXTRA STOUT" with other finely detailed letters and embellishments to mimic the look of an actual bottle and the reverse reads: "E & J BURKE TRADE MARK GUINNESS FOREIGN STOUT".
VINTAGE: Circa 1900
SIZE: Approximately 4 ½" x 1 ½"
CONSTRUCTION/MATERIALS: Silver plated cast iron, white metal
ATTACHMENT: None.
MARKINGS: None.
ITEM NOTES: This is from an advertising collection which we will be listing more of over the next few months. VHX15 LFJX7/15 SeHEX8/16
CONDITION: 6 (Fine+): The bottle opener shows moderate surface wear, nice patina.
GUARANTEE: As with all my items, this piece is guaranteed original.