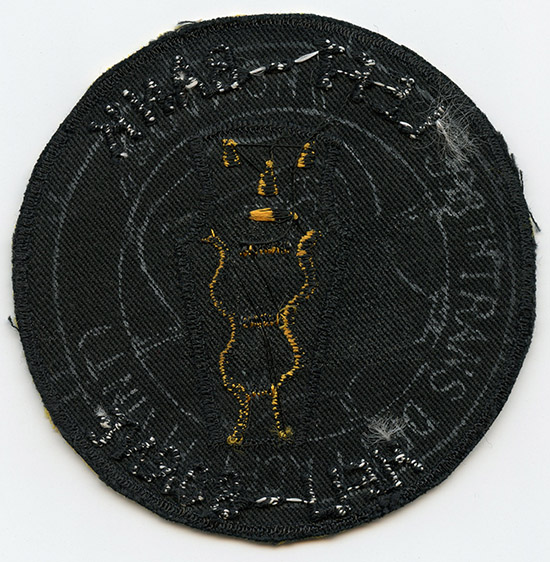 ARTIFACT: Late 1960's ASA (Army Security Agency) 371st Radio Research Co. pocket patch. The 371st served in the Republic of Viet Nam from 1966 to 1971. They were tasked with the mission of gathering combat-related intelligence and reporting back to the Division Commander. The Company was attached to the United States Army 1st Cavalry Division and earned two Presidential Unit Citations, four Meritorious Unit Commendations, and one Valorous Unit Award. The yellow patch shows a black emblem in the center that resembles a face on a radio emitter. Along the top it reads: "LEFT-BANK" and along the bottom: "HELI-BORNE". The 371st manned the EH-1 LEFT BANK aircraft and were part of the Army airborne signals capability in Vietnam. The reverse is backed with black heavy canvas and shows white pencil marks for a previously outlined, but not embroidered patch.
VINTAGE: Circa late 1960's
SIZE: Approximately 3-1/2" in diameter
CONSTRUCTION/MATERIALS: Embroidered nylon canvas, silk/polyester/cotton threads, heavy canvas backing
ATTACHMENT: N/A
MARKINGS: None.
ITEM NOTES: This is from a US Army collection which we will be listing more of over the next few months. MAZ16 LACEX9/16
CONDITION: 8+ (Excellent): The patch shows minor wear, colors remain bright, overall excellent condition.
GUARANTEE: As with all my items, this piece is guaranteed original.