Welcome to the Brand New Flying Tiger Antiques & Vintage Historical Artifacts On-Line Store.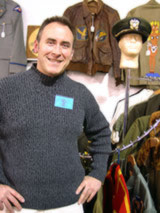 Or, FTA Version 3.0, as we've been calling it. This new site has taken over a year to go from conception to actuality. The previous version of our site had been in place for almost 15 years, and although it was like a comfortable old pair of blue jeans, it was time to catch up to the leaps and bounds that technology has been making.
We hope you enjoy the new, easier, navigation, and, coming soon, the additional "period" categories for the Military Artifacts.
For over 30 years Flying Tiger Antiques has been dealing in the highest quality Antiques and Vintage Historical Artifacts. We specialize in insignia, badges, and esoterica relating to Militaria, Police, Fire, Airline, Railroad, Ocean Liner, and Automobilia, and anything else where distinctive badges and insignia were issued and worn, with a strong offering in early 20th Century Military & Civil Aviation insignia, and Vintage Law Enforcement Badges. We have a large stock of WW2 insignia, and ephemera; and we also carry items from the Civil War to the Vietnam War, both US and Foreign. Sometimes we even come across earlier items from the Mexican War, the War of 1812, the American Revolution, and before. Whatever you collect, we probably have access to it. Noted for offering the utmost in quality and authenticity, you can always buy with confidence from Flying Tiger Antiques.

Thank you for your continued patronage,
Ron Burkey
Owner, Sales, Appraisals, and Acquisitions

Expect Authenticity. We believe that you should not have to be a Detective to be a Collector.℠