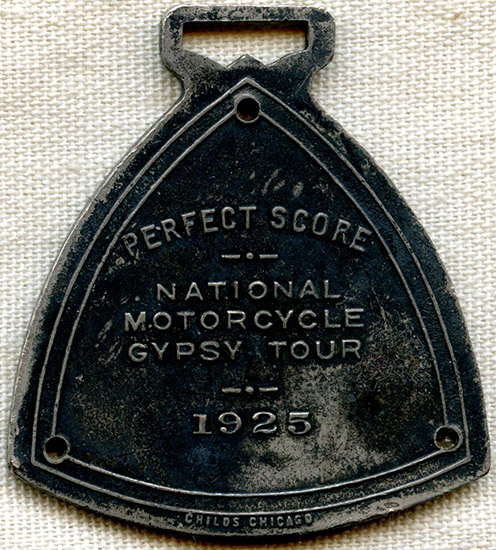 ARTIFACT: Fabulous vintage 1925 American Motorcycle Association (AMA) Gypsy Tour watch fob. 1925 was the first year the AMA sanctioned the tour. Gypsy tours comprised of a group of riders from all over that would converge on a favorite destination, the term gypsy was used because of the far reaching corners the riders would come from, camping and sleeping in tents along the way. The annual gypsy tour to Laconia, New Hampshire near Lake Winnipesaukee began in 1916 and is the oldest continuous motorcycle event in the U.S. The watch fob is made of silver plated brass and reads: GYPSY TOURS 1925 with a center disc of yellow, green, and red enamel surrounded by letter A M A and the reverse of the watch fob reads: "PERFECT SCORE – NATIONAL MOTORCYCLE GYPSY TOUR – 1925"
VINTAGE: Circa 1925
SIZE: Approximately 1 1/2" x 1 ¾"
CONSTRUCTION/MATERIALS: Silver plated brass and enamel.
ATTACHMENT: Loop.
MARKINGS: Reverse: "CHILDS CHICAGO"
ITEM NOTES: This is from a motorcycle and automobile collection which we will be listing more of over the next few months. ebay VAJJX05 LEGEX1/15
CONDITION: 9- (Excellent+): Watch fob shows moderate wear, nearly all of the silver plating and enamel details remains fully intact, overall nice patina.
GUARANTEE: As with all my items, this piece is guaranteed original.