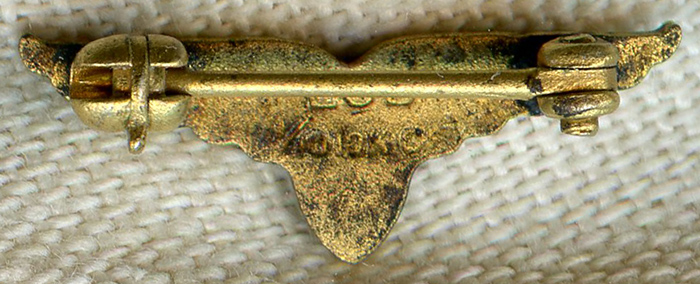 ARTIFACT: Rare 1930's - 1940's Chance Vought Aircraft Corp. Three Years of Service lapel pin by Balfour. Founded in 1917 under the name, The Lewis and Vought Corporation the name soon changed to Chance Vought Corporation in 1922 upon Lewis' retirement. Chance Vought was a former Chief Engineer for the Wright Company and established Chance Vought Aircraft Corp. to participate in the growing need for both, military and civilian aircraft. Before Vought's untimely death in the 1930's the company had successfully provided the US Navy and Army Air Forces with a variety of fighters, trainers, flying boats, and surveillance aircraft. A Vought VE-7 trainer was the first to takeoff from the deck of an American aircraft carrier, the USS Langley.
The United Aircraft and Transportation Corp. acquired the company in 1928 and soon after experienced a force split of its own corporation as a result of the Air Mail Act of 1934 - and became - Boeing Aircraft, United Airlines, and the United Aircraft Corp., which Vought remained part of. Just before the 1940's, a Chief Engineer by the name of Rex Beisel began to develop the XF4U, which enjoyed its maiden flight in 1940 and thereafter, thousands of F4U Corsairs were produced to support the Navy and Marines during WWII.
The 10K gold filled pin features nicely details wings that read: "CHANCE VOUGHT" with a blue enameled shield below showing the number: "3".
VINTAGE: Circa 1930's - 1940's
SIZE: Approximately 10/16" x 3/16"
CONSTRUCTION/MATERIALS: 10K gold fill, enamel
ATTACHMENT: Horizontal pin with drop in locking swivel catch.
MARKINGS: "1/10 10K G.F. LGB"
ITEM NOTES: This is from an aviation collection which we will be listing more of over the next few months. ebay VEX07 LAAEX2/16
CONDITION: 8+ (Excellent): The pin shows minor wear, nearly all of the enamel details remain intact, overall excellent condition.
GUARANTEE: As with all my items, this piece is guaranteed original.