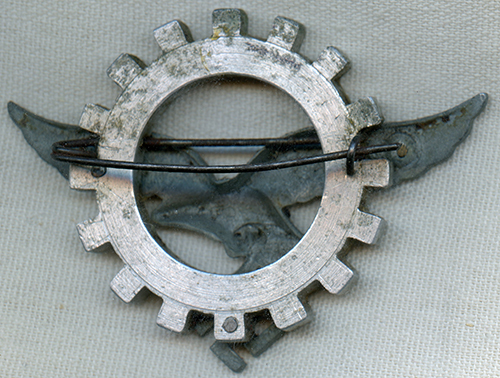 ARTIFACT: This is a wonderful field made Luftwaffe General-Luftzeugmeister Breast badge. The Luftwaffe General Luftzeugmeister, believed to be founded in the mind 1930's and given uniform rights in 1941, consisted of civilian personnel who acted as Comptrollers (Overseers) of the aircraft and weapons factories in Germany as well as in the occupied territories. The construction of this badge is not issue. Typically, these badges were made with stamped zinc with three prongs on the back, causing difficulty in removing it for uniform cleaning. This badge, however, was made by a skilled technician decided to make his own badge, machining the cog wheel out of aircraft aluminum, and neatly riveting, with steel rivets, an enlisted Luftwaffe cap eagle, made of zinc, to it. He finished it off by adding a pin made of steel wire to easily place the badge on and off his uniform. The badge was likely made around 1942.
VINTAGE: Circa Early 1940's
SIZE: Approximately 1-7/8" x 2-5/8"
CONSTRUCTION/MATERIALS: Aircraft aluminum cog, zinc eagle, steel pin.
ATTACHMENT: Horizontal pin with over-under catch. Eagle is riveted to cog.
MARKINGS: None
ITEM NOTES: This is from a Nazi German Militaria collection which we will be listing more of over the next few months. VAJJX17 LCEJX03/17 SCEJX12/17
CONDITION: 8- (Very Fine-Excellent): This is a beautiful and unique piece of WWII Aviation History, very well preserved and wonderfully made. The steel pin is warped, however, and does not open easily.
GUARANTEE: As with all my items, this piece is guaranteed original, and of the period stated.