Wonderful Mounted Valor & Service Medal Grouping of eventual Rear Admiral John R. Y. Blakely
Code: usnm00000jbm
---
Product Description
•••••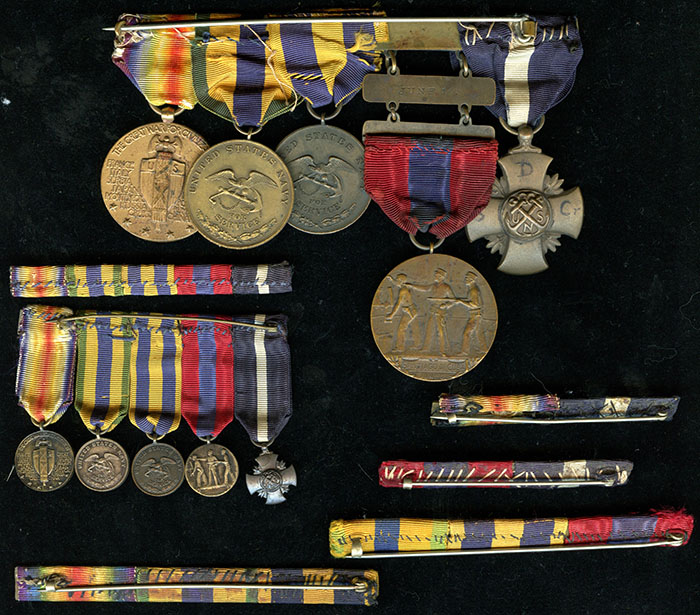 ARTIFACT: This wonderful medal grouping came out of the woodwork here in New Hampshire and into my possession over a year ago. I did some initial research, and sought help from those more advanced than me in the ways of US Medals, and found that not only did I have a very nice historical grouping of a man who eventually became a Rear Admiral (NOT a Tombstone Rank!) in the US Navy, but that I had a bit of a mystery on my hands. Hence why this grouping has stayed off the web site and out of the public eye for the last year. With the help of an old friend, the mysteries of the grouping were finally solved, and all the medals and their perceived errors can finally be explained and turn out to be exactly correct! Along with the full size mounted medal bar, which appears to have been put together in England by the type of fittings on the back, is a lovely miniature medal bar (with the Naval Spanish Campaign/West Indies Campaign medal actually substituted by an Army Spanish Campaign medal: perhaps it was what was in stock??), very nice miniature ribbon bar, and an assortment of various full size ribbon bars from Blakelyís estate.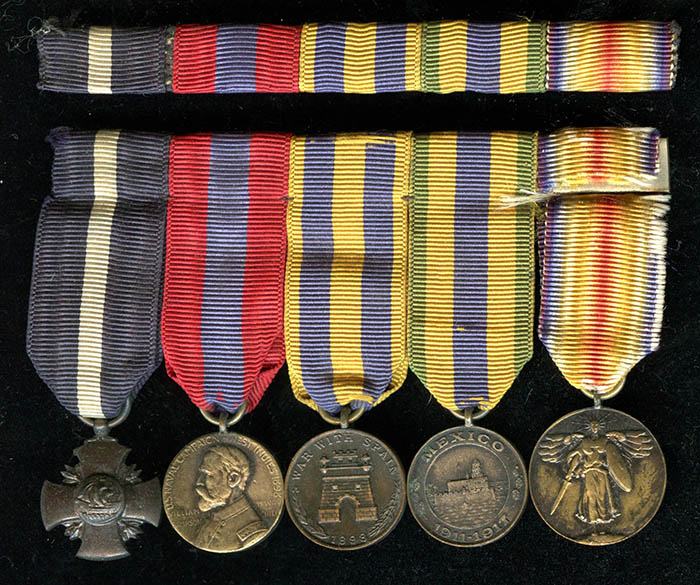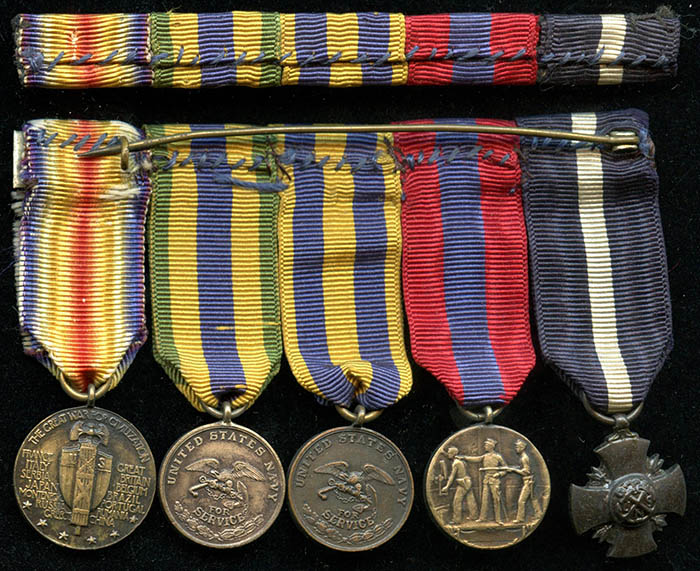 OK, letís start Admiral Blakelyís story, and the story of the medal bar: John Russell Young Blakely was born on 17 July 1872 in Philadelphia, Pennsylvania, and graduated from the United States Naval Academy in 1892.
US Naval Academy Class of 1892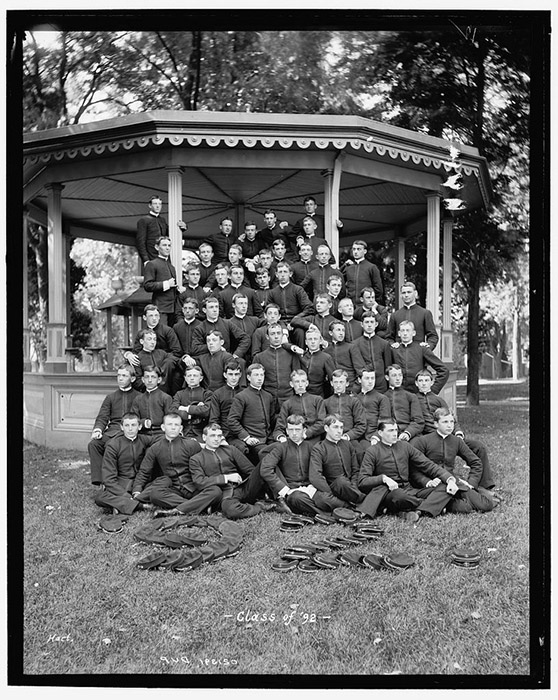 (Photos are not included in grouping and are contained herein for historical reference only)
Not much is known of Blakelyís early Naval career (although his Records are on order from St. Louis!), but by the Spanish American War, he found himself enroute to Cuba.
Here is where things got complicated while looking at the medal bar: In researching Blakely in the Sampson Medal book, there is some discrepancy about the ship and bars, as Blakely is listed as having a 3 battle bar medal to the USS Marblehead, but here on the medal bar is a USS New Orleans Sampson Medal, correctly engraved: Ensign John R.Y. Blakely U.S.N.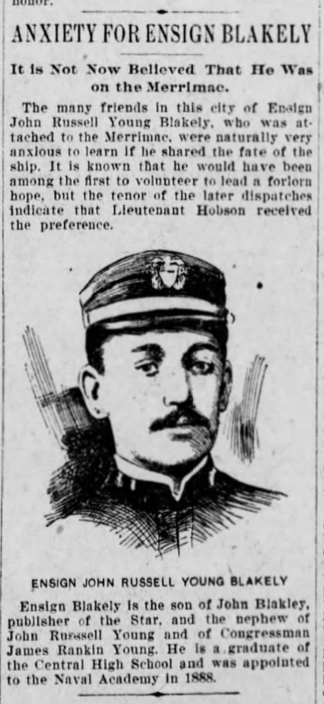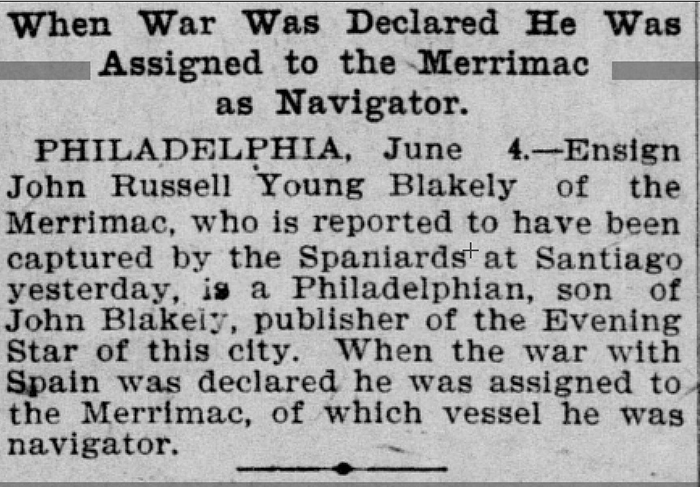 (News clippings not included in grouping, shown here for historical reference only)
To confuse things more, Blakely was actually sent to Cuba on the USS Merrimac as Navigator , but when Hobbes and his crew of 8 were sent to sink the ship and block the harbor,
Blakely was transferred to the USS New Orleans, hence the June 6 medal (since he and the ship were not there for the May Santiago battle) and the 2 Santiago bars (one dated June 14, other soldered to mounting bar), as the New Orleans was Coaling at Key West during the 3 July Battle.
USS New Orleans (CL-22): New Orleans sailed on 27 March 1898 to fit out at New York, New York, for service in the Spanish-American War. She left Norfolk, Virginia, on 17 May and joined the Flying Squadron off Santiago de Cuba on 30 May. The next afternoon, with Massachusetts (BB-2) and Iowa (BB-4), she reconnoitered the harbor, exchanging fire with Spanish ships and shore batteries. After joining in the bombardment of the batteries at the entrance to the harbor 6 and 16 June, New Orleans sailed to coal at Key West, and was thus absent during the Battle of Santiago de Cuba on 3 July. Through the summer, New Orleans cruised on blockade between San Juan, Puerto Rico, and Guantanamo Bay, Cuba, capturing the French blockade runner Olinde Rodrigues on 17 July. She arrived at Philadelphia, Pennsylvania, on 20 October for the Peace Jubilee, then prepared at New York to launch her peacetime service with a visit to New Orleans, Louisiana, from 16 May through 29 May 1899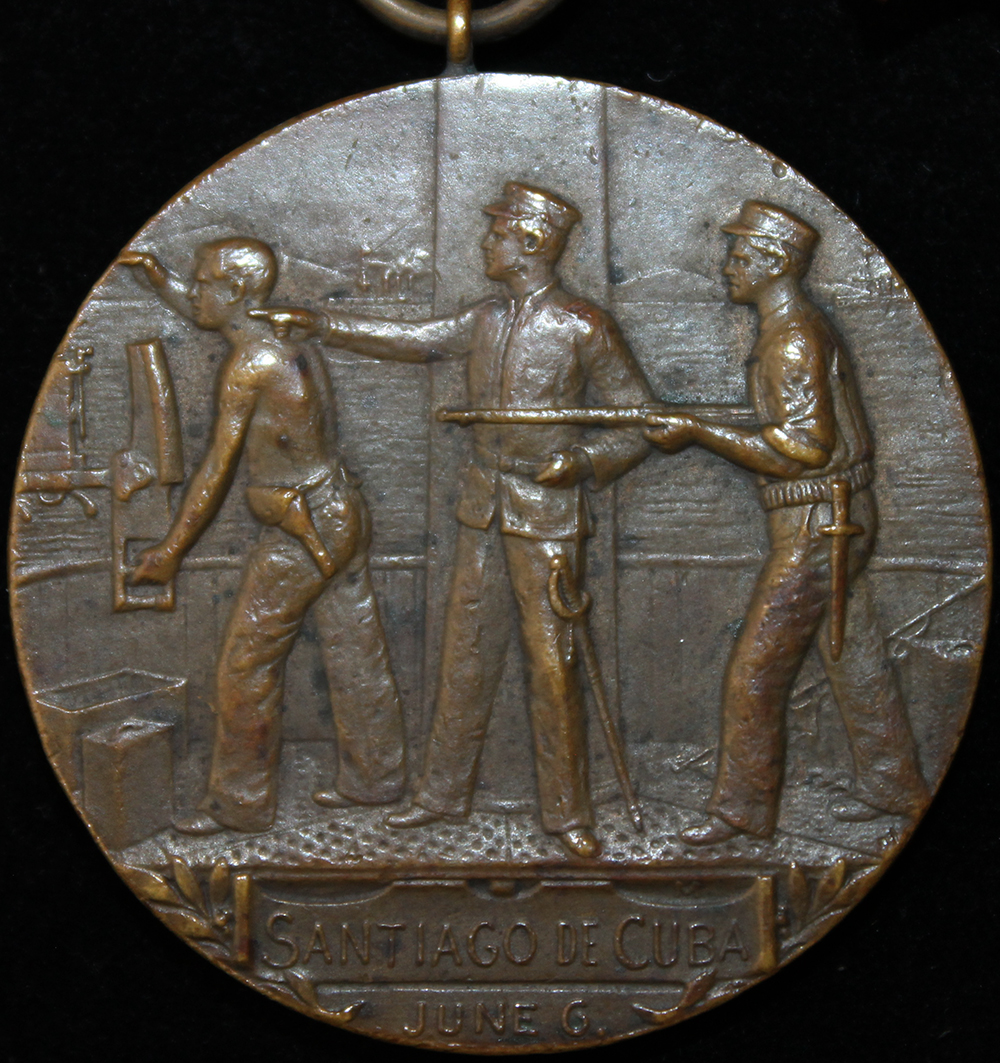 Cementing the fact that Blakely was indeed on the New Orleans is NARA Records Group 24, Entry 88, Box 1055, Letter 459, stating that Blakely was issued West Indies Campaign Medal No. 179 on October 27, 1908 based on his service aboard the USS New Orleans. Further complicating the medal bar, but also fully documented, is that fact that Blakelyís West Indies Campaign Medal was reported as stolen. To replace the stolen medal, He purchased West Indies medal #2774 from BB&B per their letter dated June 15, 1909.

(Not included in grouping, for historical reference only)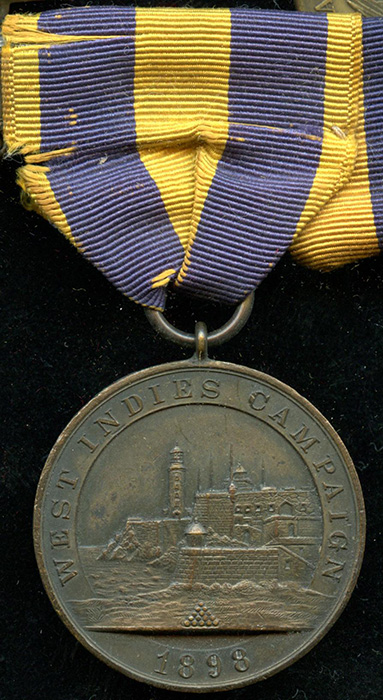 Nothing is yet known of Blakelyís service in Mexico, but his Mexico Service Medal is #íd: 396.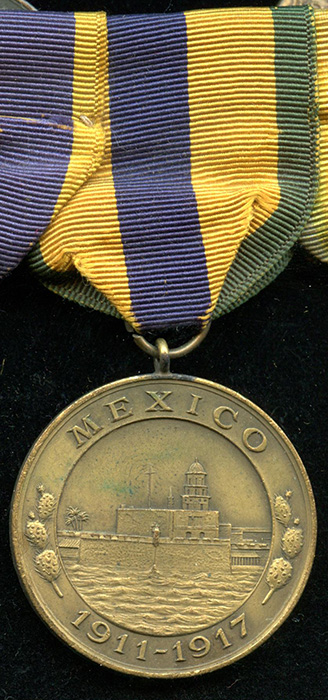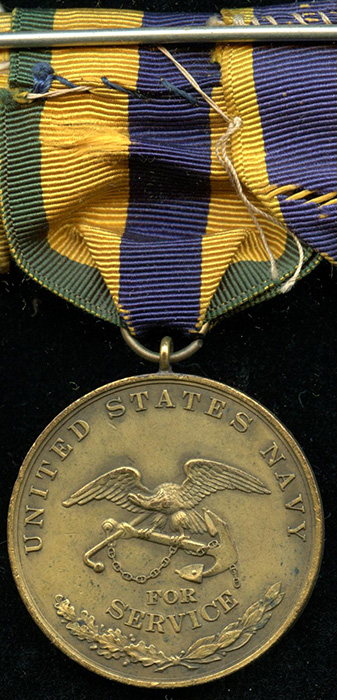 In WWI, then-Captain Blakely was awarded the Navy Cross for WWI Convoy action as Commander of U.S.S. Des Moines & U.S.S. Seattle (see citation below). Blakely, John R. Y. Captain, U.S. Navy Commanding Officer, U.S.S. Des Moines & U.S.S. Seattle Date Of Action: World War I Citation: The Navy Cross is awarded to Captain John R. Y. Blakely, U.S. Navy, for distinguished service in the line of his profession as commanding officer of the U.S.S. Des Moines and later of the U.S.S. Seattle, engaged in the important, exacting and hazardous duty of transporting and escorting troops and supplies through waters infested with enemy submarines and mines.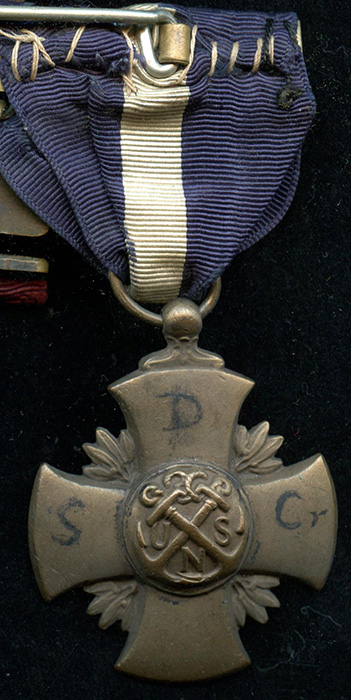 USS Des Moines (CL-17) : Between 15 April 1910 and 23 January 1911, Des Moines cruised the coast of Africa, gathering information about commercial and political conditions, and called at the Canaries, Lisbon, Cadiz, and Gibraltar. Between March and November 1911 she returned to her Atlantic and West Indian duty, and on 6 December 1911 was placed in reserve for repairs at Boston. Returned to full commission on 3 September 1912, she sailed to the Caribbean to observe and report conditions in the island countries and Central America, and to protect American citizens from political turmoil. She sailed north periodically for overhaul at Portsmouth Navy Yard, and on 24 April 1915 sailed from Guantanamo Bay, Cuba, for Alexandria, Egypt.
Between 26 May 1915 and 25 April 1917, Des Moines protected American citizens and interests threatened in the Middle Eastern theater of war, carrying missionaries and other refugees out of Turkey and Syria, delivering relief funds, carrying United States officials, and serving on exercises which took her to ports in Italy, France, Spain, and Algeria. After overhaul at the New York Navy Yard, she joined the Cruiser Force of the Atlantic Fleet for duty escorting merchant convoys from New York and Norfolk, Virginia, to their rendezvous in the Atlantic with destroyers which took up the escort job. In addition to eight such voyages, Des Moines voyaged to Sydney, Nova Scotia, on escort duty, and trained armed guard crews.
Post-Blakely Command: While undergoing repairs at New York in January 1919, Des Moines was sent to sea to aid in rescue operations at the scene of the grounded Northern Pacific. All of the fast transport's 2,200 passengers were rescued, 50 of them by Des Moines. She sailed from New York on 11 April 1919 for Archangel, Russia, and duty with the Naval Forces in Northern Russia. Here Des Moines protected American interests from the disturbances of the Bolshevik Revolution, and carried home American troops who had served around Archangel, returning to Portsmouth, New Hampshire, on 27 October.
Des Moines cruised off Mexico between May and September 1920, reporting on political conditions, and joining in relief efforts during an epidemic of the plague. She joined the Special Service Squadron based at the Panama Canal Zone to cruise Central American waters, and the west coast of South America promoting friendly relations between the United States and its sister American republics until 5 March 1921, when she returned to the Portsmouth Navy Yard.
USS Seattle (ACR-11): (Hereís where things get good):
Seattle's peacetime duties as flagship for the Destroyer Force were short. On 6 April 1917, the United States, after attempting to remain neutral despite repeated incidents on the high seas, finally entered World War I.
Seattle arrived at New York on 3 June to be fitted out at the New York Navy Yard for war service. She sailed on 14 June as an escort for the first American convoy to European waters and as flagship for Rear Admiral Albert Gleaves. At 22:15 on 22 June, she encountered her first enemy submarines at 48į00′N 25į50′W.
Shortly before the convoy was attacked, Seattle's helm jammed; and she sheered out of formation sharply, sounding her whistle to warn the other vessels. A few minutes later, the ship was brought back on course. Soon lookouts noted a white streak in the water 50 yd (46 m) ahead of the vessel, crossing from starboard to port at right angles to Seattle's course. Admiral Gleaves, asleep in the chart house at the time, awoke and was on the bridge in time to see the armored cruiser's gun crews manning their weapons and the transport De Kalb opening fire on the U-boat.
Subsequently, the destroyer Wilkes attacked an enemy submersible but failed to sink the German submarine. Later information indicated that the enemy, probably aware of the approach of the first American expeditionary forces, had dispatched a pair of submarines to lie in wait for it. The attack, conducted under "ideal" conditions, was, fortunately for the Americans, unsuccessful. Admiral Gleaves, in his report to the Commander in Chief, Atlantic Fleet, on 12 July, reported unequivocally:
"their [the enemy's] failure to score hits was probably due to the attack being precipitated by the fortuitous circumstances of the Seattle's helm jamming and the sounding of her whistle, leading the enemy to suppose he had been discovered."
The Seattle operated on comparatively uneventful escort duties for the remainder of World War I, completing her ninth round-trip voyage at New York on 27 October 1918.
John. R. Y. Blakely on the USS Seattle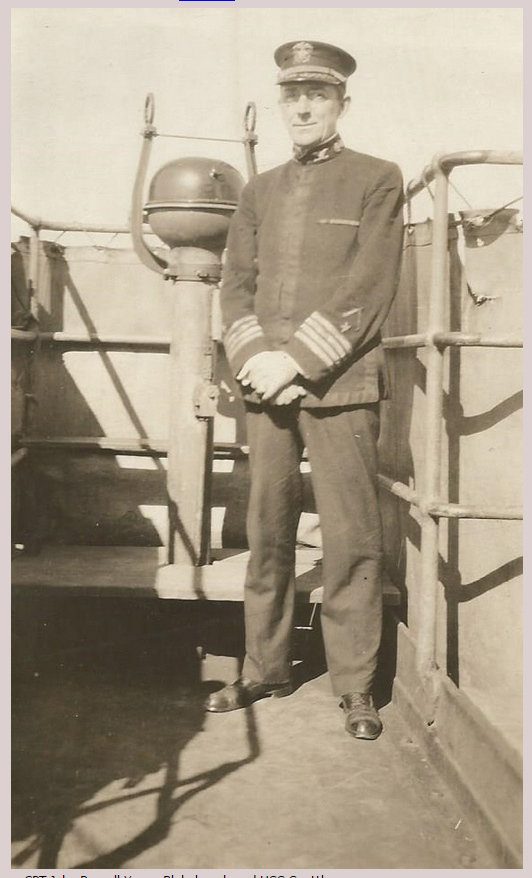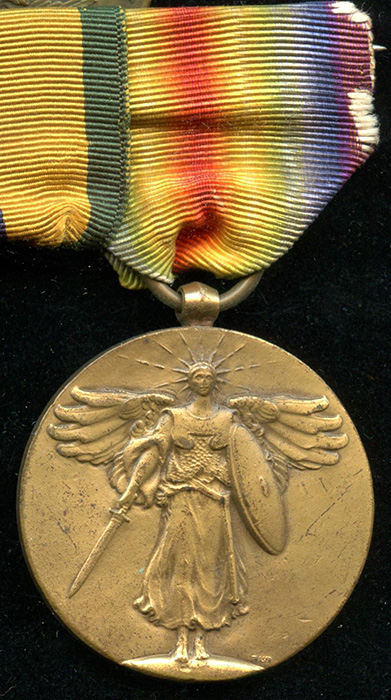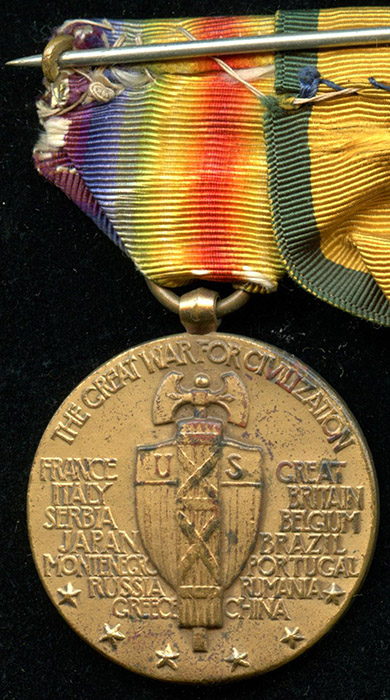 Notable events in Blakelyís post-WWI service was his role as the Commanding Officer of the USS Arizona 27 July 1922 to 29 November 1923 as Captain.
Later he was Commander of the 15th Naval District 1929-30. Thatís the Panama Canal, as a Rear Admiral.
whoswhopennsylvania1910 Blakely retired from active service on June 1, 1932 after 40 years of service.
Sadly, he killed himself in 1942 leaping out of a window of the fifth floor of Fitzsimmons general hospital, he was 69 years old. There was no suicide note.
USS J.R.Y. Blakely (DE-140) was named in his honor. The ship was launched by Consolidated Steel Corp., Ltd., Orange, Texas, 7 March 1943; sponsored by Miss Mary Young Blakely, niece of Rear Admiral Blakely; and commissioned 16 August 1943, Comdr. J. H. Forshew in command. The Destroyer Escort went on to perform many duties during WWII, especially as part of Hunter-Killer Groups that were responsible for the sinking of multiple German U-Boats.
VINTAGE: Circa Span-Am War Era - WWI Era
SIZE: Various usual measurements
CONSTRUCTION/MATERIALS: Silk, bronze, brass
ATTACHMENT: Horizontal pin with ĎCí type clasp
MARKINGS: Sampson: "ENSIGN R. Y. BLAKELY USN"; West Indies: "J. R. Y. BLAKELY USN NO. 2774"; Mexico: "396"
ITEM NOTES: This is from a United States Navy Medal collection which we will be listing more of over the next few months. VBJJJX14 LHGEJX9/15
CONDITION: 7 (Very Fine- Overall): The medals show minor to moderate wear, the ribbons show fatigue, overall very fine condition.
GUARANTEE: As with all my items, this piece is guaranteed original.