Cool 1934 Atlantic & Pacific Tea Company 75th Anniversary Large, Celluloid Employee Badge
Code: advf10009apc
SOLD!!! No Longer Available!
---
Product Description
•••••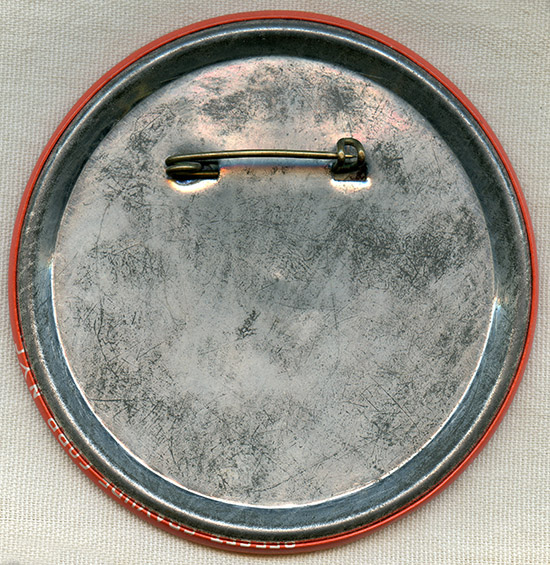 ARTIFACT: Cool 1934 Atlantic & Pacific Tea Company 75th Anniversary large celluloid employee badge. The large, orange, white, and blue badge reads: "GROWING UP WITH AMERICA FOR 75 YEARS. The center shows the company's initials in a blue circle with an employee on either side wearing period uniforms to illustrate time, the 'older' on the left holds a sign that reads: "1859" and the 'younger' holds a sign that reads: "1934". A&P was established in 1859 with their first corner store in New York City, today they remain one of the largest grocery companies in the Northeast.
VINTAGE: Circa 1934
SIZE: Approximately 3-1/2" in diameter
CONSTRUCTION/MATERIALS: Celluloid, steel
ATTACHMENT: Horizontal safety style pin.
MARKINGS: "(????) CORP., N.Y."
ITEM NOTES: This is from an advertising food and grocery collection which we will be listing more of over the next few months. VFM15 LCHX10/15 SCEM3/18
CONDITION: 6 (Fine+): The badge shows moderate to heavy wear, but would grade and price higher if not for a pinhole at the center of the letters: "A&P", does not detract too badly, overall the colors remain bright.
GUARANTEE: As with all my items, this piece is guaranteed original.