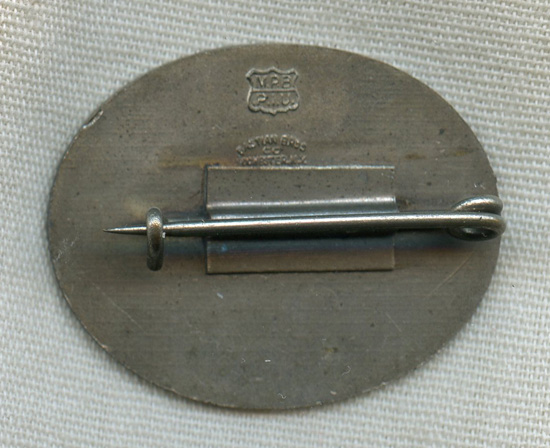 ARTIFACT: This is a circa WWI - early 1920s worker badge for the Curtiss Aeroplane & Motor Company, founded by early aviator Glenn Curtiss. Curtiss Aeroplane and Curtiss Motor Company had both been independent companies in the 1910s, and they merged in 1916. This entity later became part of the Curtiss-Wright Corporation in 1929. Curtiss manufactured seaplanes and other craft, working with the United States Navy in the early days of military aviation and also with allies Canada and Britain. The badge is oval and numbered 15925 on its front, and was made by Bastian Brothers of Rochester, New York.
VINTAGE: Circa World War I – early 1920s.
SIZE: Approximately 1-1/4" in height and 1-9/16" in width.
CONSTRUCTION/MATERIALS: Plated brass, painted details.
ATTACHMENT: Horizontal safety-style pin with rectangular saddle.
MARKINGS: BASTIAN BROS. CO. ROCHESTER N.Y.
ITEM NOTES: This is from an early aviation company collection which we will be listing more of over the next few months. VEJX14 LAGEX7/14 SAEJX4/15
CONDITION: 7+ (Very Fine+): The badge has some light wear only.
GUARANTEE: As with all my items, this piece is guaranteed original.