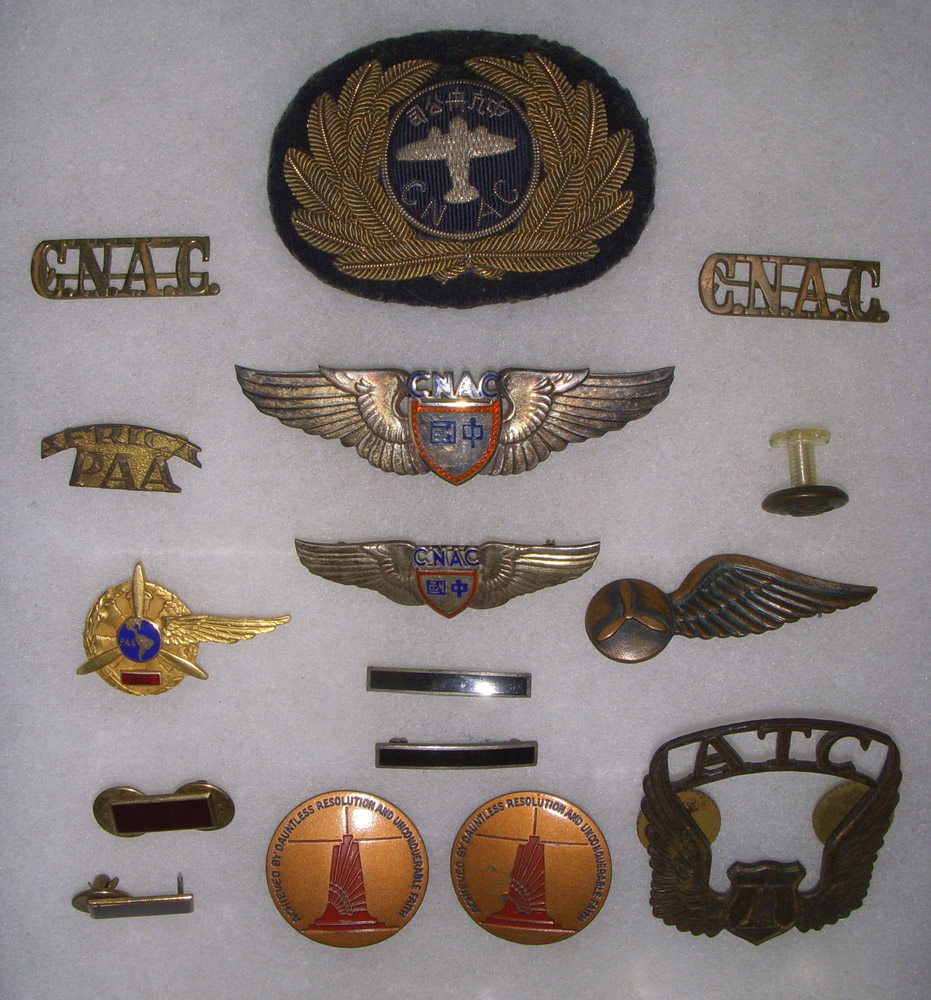 ARTIFACT: This is an EXTREMELY RARE - ONE OF ONLY 3 KNOWN - CNAC (Chinese National Aviation Corporation) flight engineer shirt-size wing from the World War II era. This extremely rare wing looks nearly identical to the pilotís at first glance, but has one tiny, yet very important difference. The central shield has only 2 characters instead of the usual 3. This is a very subtle, but very important difference. It is so subtle in fact, that the 2 characters actually mean the same as the 3: China National Aviation Corporation, but the visual difference is what tells the difference between a Pilot or a Flight Engineer. I only know this denotes Flight Engineer because I have a grouping from a man who was a Flight Engineer in 3 organizations: Pan Am, The Civilian ATC, and CNAC. Flight Engineers usually wear a half wing, but in Asia, a half wing was looked down upon in local culture, so the Flight Engineers for CNAC wore a full wing, but with the tiny visual clue at center to denote the difference for those in the know. This is only the 3rd of these shirt size wings I have seen for a Flight Engineer, making it one of the most rare of CNAC wings, and a much needed addition for most CNAC and WWII wing collections. CNAC was an airline co-owned equally by Pan Am Airlines and the Chinese government. CNAC ran many missions for the United States Army Air Forces American Volunteer Group (AVG) during the war, and many AVG members became CNAC employees after the AVG disbanded. The Chinese characters on the shield are the Chinese symbols for China National Aviation Corp. The image of the grouping is shown as reference and is not for sale.
VINTAGE: Circa World War II.
SIZE: About 2-1/8" in width by 5/8" in height.
CONSTRUCTION/MATERIALS: Silver with enamel accents.
ATTACHMENT: Horizontal pin with a "drop-in" locking catch.
MARKINGS: SILVER.
ITEM NOTES: This is from an airline collection which we will be listing more of over the next few months. RABJJX05 LCFJJX10 SBFJJX9/10
CONDITION: 8- (Very Fine-Excellent): The wing has very minor wear; enamel is in great condition.
GUARANTEE: As with all my items, this piece is guaranteed original.