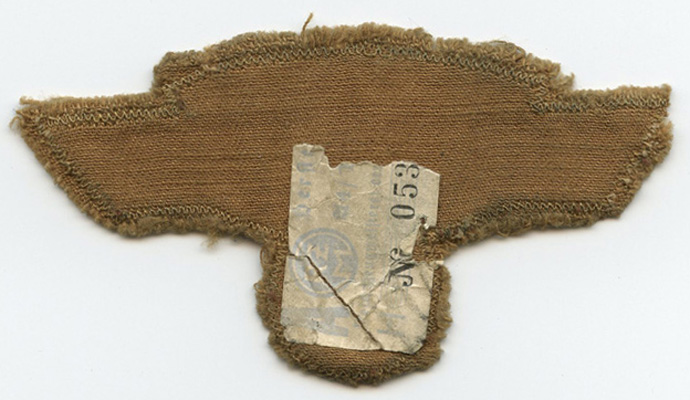 ARTIFACT: This is a circa 1930s or World War II sleeve eagle in silver bullion for the NSKK (Nationalsozialistisches Kraftfahrkorps), or the German National Socialist Motor Corps. A Nazi Party organization, the NSKK was organized primarily for the education of both automobile and motorcycle drivers. The eagle was removed from a uniform, and has a partial RZM label on reverse.
VINTAGE: Circa 1930s-World War II.
SIZE: Approximately 2" in height and 3-3/16" in width.
CONSTRUCTION/MATERIALS: Woven cotton embroidered in silver bullion threads, partial paper tag.
ATTACHMENT: None.
MARKINGS: RZM label reading No 053- (partial).
ITEM NOTES: This is from a Nazi Germany militaria collection which we will be listing more of over the next few months. CON-JST-XXX13 LADEX6/13
CONDITION: 7 (Very Fine): The sleeve eagle has moderate wear to the edges; bullion is still brilliant.
GUARANTEE: As with all my items, this piece is guaranteed original.