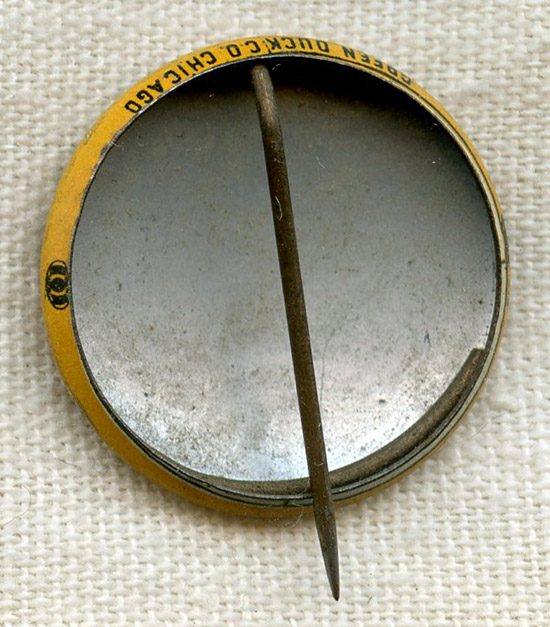 ARTIFACT: This is a 1952 Walt Kelly "I Go Pogo" celluloid pin. The pogo strip won the Reuben Award in 1951, and was known for its ability to entertain children and adults alike with its simple humor and hints of satire. The pin is in an orange-yellow and shows the head of Kelly's Pogo character in black and white at its center.
VINTAGE: Circa 1952.
SIZE: Approximately 7/8" in diameter.
CONSTRUCTION/MATERIALS: Celluloid-wrapped tin, plated brass pin.
ATTACHMENT: Straight pin.
MARKINGS: CORP. 1952 WALT KELLY on front and GREEN DUCK CO. CHICAGO on top edge (seen in reverse photo) and two union marks on edge as well.
ITEM NOTES: This is from a comic strip collection which we will be listing more of over the next few months. ebay MAX97 LBHX2/11 SBHX11/15
CONDITION: 8 (Excellent-): The pin shows some very small spots of light wear only and hardly any fading.
GUARANTEE: As with all my items, this piece is guaranteed original.