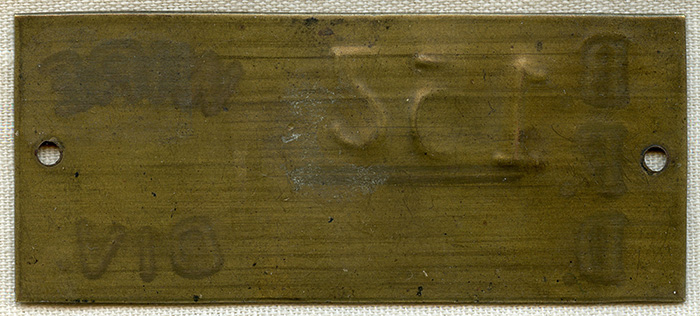 ARTIFACT: 1920's – 1930's Boston Fire Department Wire Division brass plaque #152. The Wire Division of the BFD was tasked with maintaining the wired connections inside 'theaters, places of amusement, and public halls' and to maintain the operational connection of the wires connected to the fire houses. In addition, the Wire Division also compiled reports of the fires caused from electrical wires or electric sources during the transition to wide public electricity use. The brass plaque reads: "B.F.D." vertically on the viewer's left side, is numbered: "152" in the center and reads: "WIRE DIV." on the viewer's right.
VINTAGE: Circa 1920's – 1930's
SIZE: Approximately 3-1/2" x 1-1/2"
CONSTRUCTION/MATERIALS: Stamped brass
ATTACHMENT: Two holes
MARKINGS: None.
ITEM NOTES: This is from a fire and rescue collection which we will be listing more of over the next few months. VAJX15 LEEX1/16
CONDITION: 7+ (Very Fine+): The plaque shows moderate wear, overall handsome patina.
GUARANTEE: As with all my items, this piece is guaranteed original.