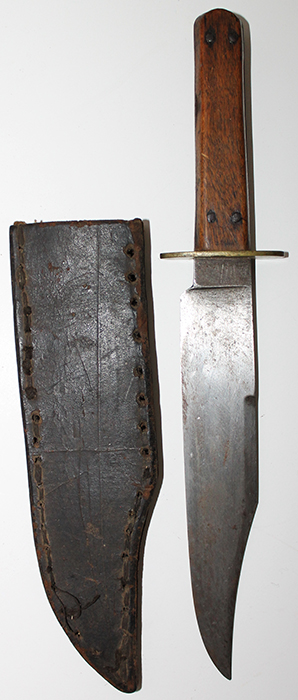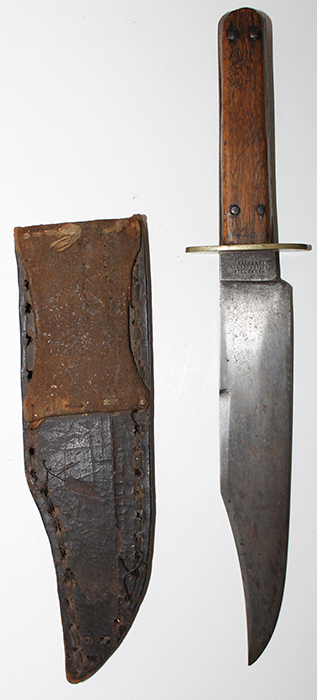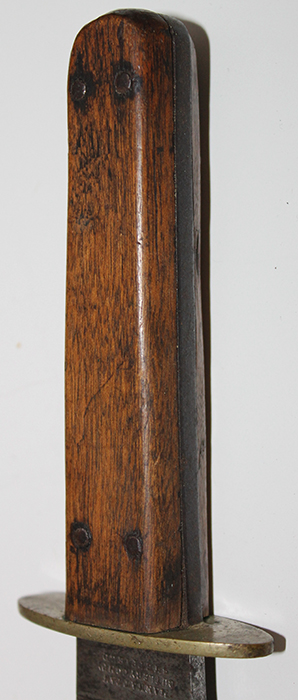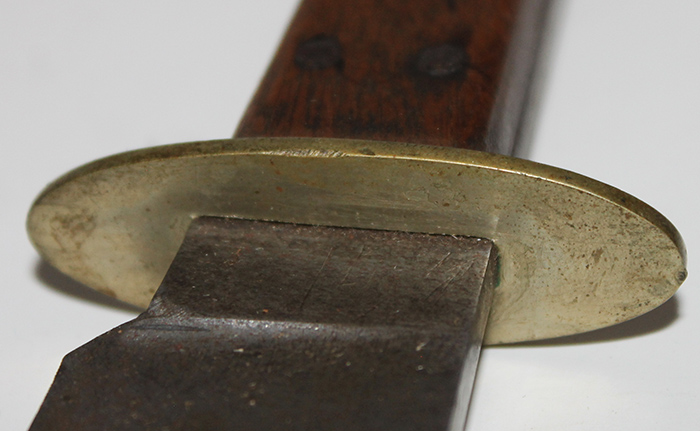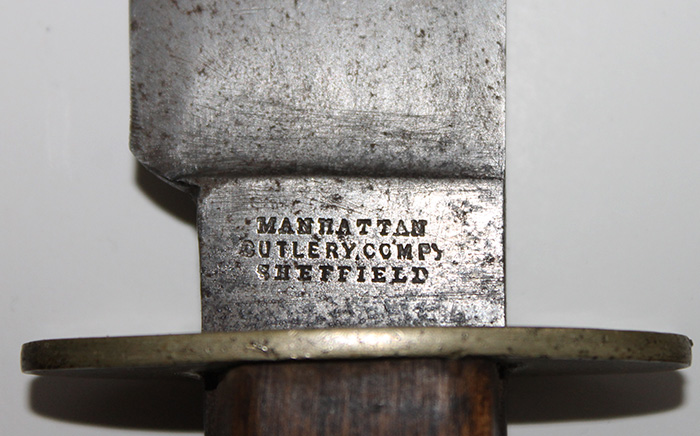 ARTIFACT: Great 1870's Cowboy's Bowie knife by Manhattan Cutlery Co. and rugged, handmade leather sheath. The knife features a large, long, wide blade that measures nearly 8" and a brass guard. The blade reads: "MANHATTAN CUTLER COMPY SHEFFIELD". The wooden slab handles look to be replacements during the period of use. The sheath is hand sewn (one side missing thread) and features an applied piece of leather to the reverse that serves as a belt attachment.
VINTAGE: Circa 1870's
SIZE: Approximately Handle: 4-2/8" x 7/8"; Blade: 7-7/8" x 1-7/8"; Guard: 2-1/2" x 3/4"; Sheath: 8-5/8" x 2-1/2"
CONSTRUCTION/MATERIALS: Steel composite, hand sewn leather, brass guard, wood, nails
ATTACHMENT: Leather attachment for securing sheath to belt.
MARKINGS: "MANHATTAN CUTLER COMPY SHEFFIELD", there appears to be a number "6" or "9" stamped into the tip of the sheath.
ITEM NOTES: This is from a Western knife and weapon collection which we will be listing more of over the next few months. ebay MAJJX16 LFGEX6/16 SLEGEX4/17 psVEHEX4/17
CONDITION: 7- (Very Fine-): The knife and sheath show moderate to heavy wear, the handle looks to be a period of use replacement, the sheath shows separation on one side where thread is missing, the blade is large and in very fine condition.
GUARANTEE: As with all my items, this piece is guaranteed original.