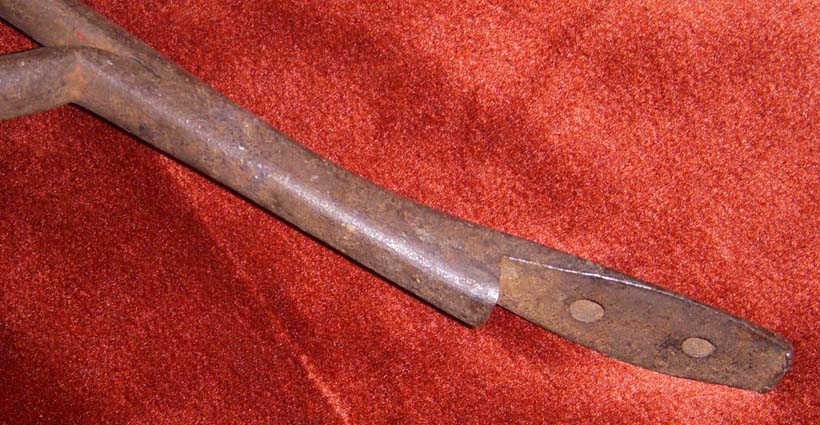 ARTIFACT: This is a nineteenth century wrought iron shoulder stock for a six-shooter gun. The holes at the end opposite the curved end meant for the shoulder are where the stock would bolt to the bottom of a grip on the revolver. OK, first off, the base area is notched back, possibly as much as 2 mm, so it would be for a pistol that had a slight flare to the bottom of the handle. Also, there is a small bit of slag on the front of the base, not sure if it is supposed to be there for support, or should have been ground off, so I will give 2 measurements for the base area where the bottom of the handle would attach to the stock: about 2-1/16" taking the slag into account, about 2-3/16" discounting the slag. From center to center of the 2 holes is about 13/16". From the back of the handle base to the center of the back hole is about 11/16". Again 2 measurements towards the front: From the center of the front hole to the slag on the front of the base is: 9/16" From the center of the front hole to the actual front of the base is about 21/32".
VINTAGE: Circa nineteenth century.
SIZE: Approximately 15-3/8" in length and 3-15/16" in width. See additional measurements above.
CONSTRUCTION/MATERIALS: Wrought iron.
ATTACHMENT: Two holes for bolts.
MARKINGS: None.
ITEM NOTES: This is from a firearm-related collection which we will be listing more of over the next few months. ebay MGEX00 LABEX5/11 SeAEEX7/15
CONDITION: 7 (Very Fine): The stock has an overall handsome tarnish and shows moderate wear.
GUARANTEE: As with all my items, this piece is guaranteed original.