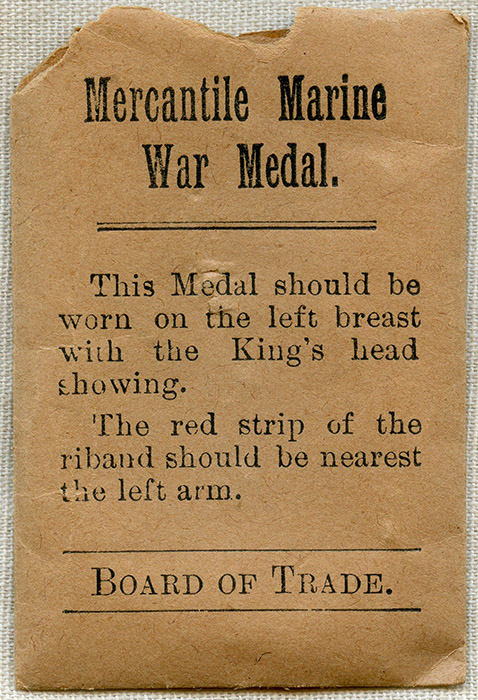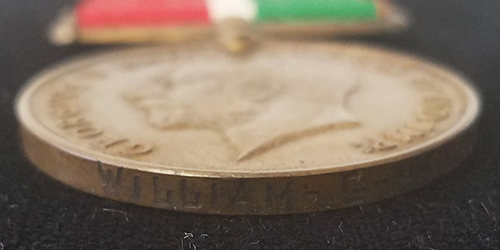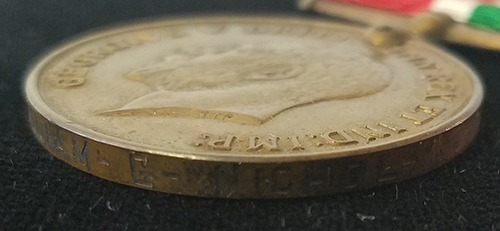 ARTIFACT: WWI British Mercantile Marine Service Medal, Envelope, and Named Mailing Box of William G. Nicholof Halifax, Nova Scotia, Canada. The medal depicts the King's head on the front and reads: "GEORGIVS V BRITT. OMN: REX ET IND: IMP:" and the reverse shows a ship sailing rough waves and below it reads: "FOR WAR SERVICE MERCANTILE MARINE 1914 – 1918" and the medallion is suspended from a red, green, and white striped ribbon. The medal's envelope reads: "MERCANTILE WAR MEDAL – This medal should be worn on the left breast with the King's head showing. The red strip of the riband should be nearest the left arm – BOARD OF TRADE". The mailing box is white and reads: "No. 159 William G. Nichol" in handwriting and is stamped: "HALIFAX MARCH 16 1922".
VINTAGE: Circa WWI
SIZE: Approximately Medal: 1 ½" x 4 1/8"; Envelope: 2 ½" x 1 7/8"; Box: 3 ¾" x 2 ¾"
CONSTRUCTION/MATERIALS: Brass, ribbon, cardboard, paper, ink
ATTACHMENT: None.
MARKINGS: Box: "No. 159 WILLIAM G. NICHOL" in handwriting and is stamped: "HALIFAX MARCH 16 1922"
ITEM NOTES: This is from a WWI Mercantile Marine collection which we will be listing more of over the next few months. MEHX15 LBBEX7/15 SeVBHEX5/17
CONDITION: 9- (Overall - Excellent+): The medal shows minor wear, the envelope is in nearly mint condition with light storage and age wear, the box shows moderate storage wear, overall excellent condition.
GUARANTEE: As with all my items, this piece is guaranteed original.