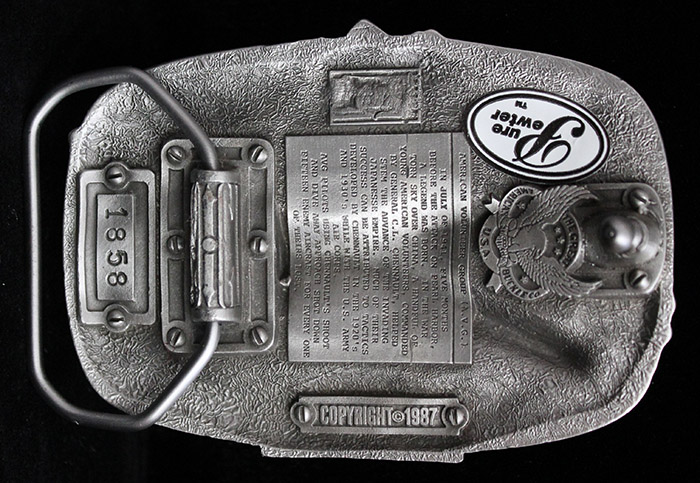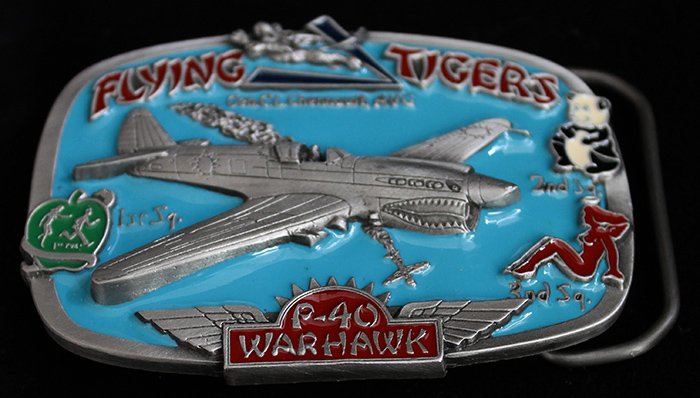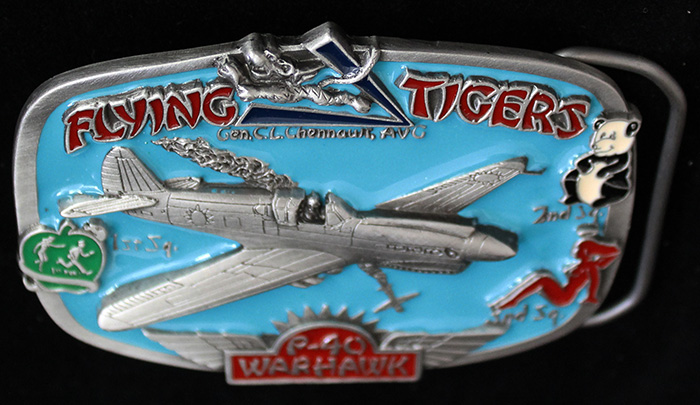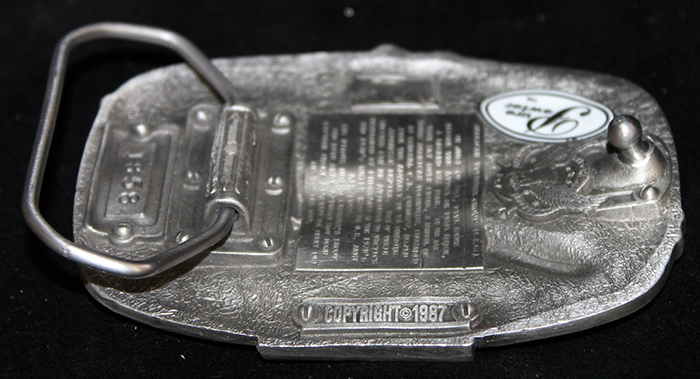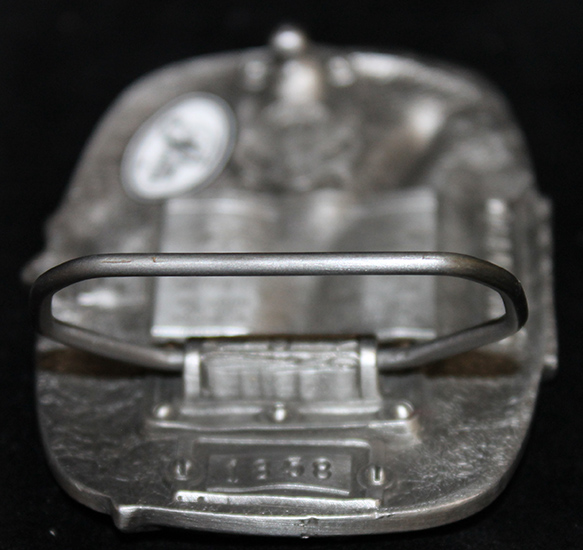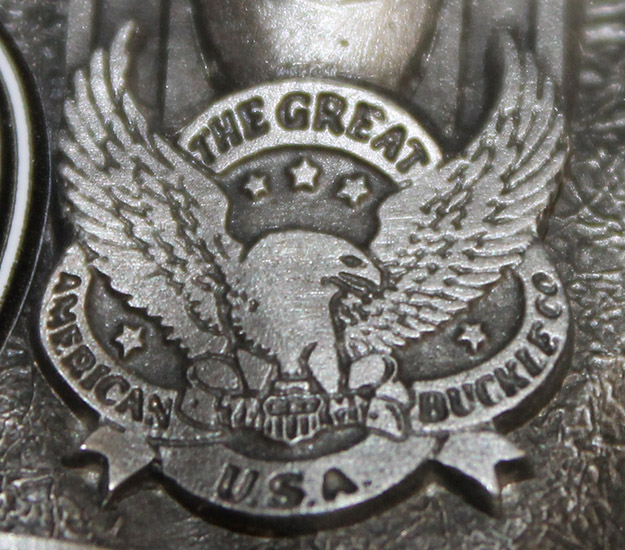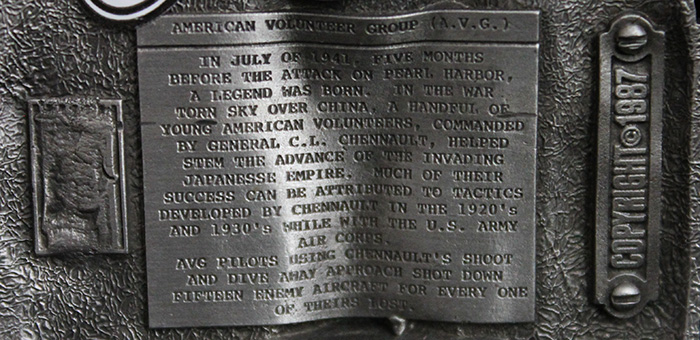 ARTIFACT: Circa 1987 Flying Tigers Association #'d (1858) P-40 Warhawk pewter buckle in near mint condition and comes along with original flyer. The belt buckle is done in high-relief, enameled detail and shows a large AVG aircraft in the center with detailed shark mouth and tail design. The emblems of each of the three squadron insignias surrounding the aircraft. Behind the center aircraft is a smaller one that has been 'hit' and is smoking and spiraling down. Along the top is reads: "FLYING TIGERS" and displays their insignia in the center and just beneath: "GEN C. L. CHENNAULT, AVG" and along the bottom: "P-40 WARHAWK". The reverse is intricately detailed and numbered: "1858" and a plate that reads: "American Volunteer Group (A. V. G.) In July of 194, five months before the attack on Pearl Harbor, a legend was born. In the war torn sky over China, a handful of young American volunteers, commanded by General C. L. Chennault, helped stem the advance of the invading Japanes[s]e empire. Much of their success can be attribute to tactics developed by Chennault in the 1920's and 1930's while with the U. S. Army Air Corps. AVG pilots using Chennault's shoot and dive away approach shot down fifteen enemy aircraft for every one of theirs lost." The reverse also shows a nice maker's plate that shows a spread winged eagle and surrounding it reads: "THE GREAT AMERICAN BUCKLE CO. U. S. A.".
The included original flyer reads: "FLYING TIGERS ASSOCIATION Presents a new item~ THE AVG WARHAWK BUCKLE A colorful new belt buckle of outstanding design. These buckles are made of pewter and have been colored individually, by hand, with enamel paint. The features of the P-40 Warhawk, the AVG logo, and the three squadron insignias are all raised on a sky blue background."
VINTAGE: Circa 1987
SIZE: Approximately 3-1/2" x 2-1/2"
CONSTRUCTION/MATERIALS: Pewter, hand-painted enamel details
ATTACHMENT: Loop for belt attachment
MARKINGS: "THE GREAT AMERICAN BUCKLE CO. U. S. A", "AVAILABLE FROM THE FLYING TIGERS ASSOCIATION P.O. BOX 2043, FALLBROOK, CA 92088" (on flyer)
ITEM NOTES: This is from an American Volunteer Group collection which we will be listing more of over the next few months. CON-EDK-25-15 LFJX11/15
CONDITION: 10- (Near Mint): The belt buckle is in near mint condition.
GUARANTEE: As with all my items, this piece is guaranteed original.