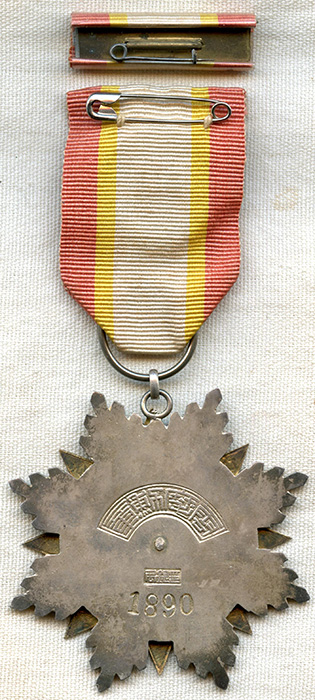 ARTIFACT: Very nice WWII era Chinese Order of the Resplendent Banner VII Class Officer Badge with ribbon bar. At times, referred to as "Order of the Clouds & Banner", this medal is awarded in nine grades for contributions to national security. The medal is an ornate, enameled silver multi-layer construction. The silk ribbon is colored, with a red outer stripe, yellow thin stripe, and a wide white center stripe with a silk rosette. The reverse shows Chinese characters and is #'d 1890.
VINTAGE: Circa WWII era
SIZE: Medal approximately 4 5/8" x 2 ¼"; Ribbon bar: 7/8" x 7/16"
CONSTRUCTION/MATERIALS: Enameled silver with silk ribbon & rosette, celluloid, brass, and steel pin
ATTACHMENT: Safety pin on medal and horizontal safety-style pin on ribbon bar.
MARKINGS: (Chinese characters) "1890"
ITEM NOTES: This is from a collection of Flying Tigers & Chinese Aviation artifacts that we here at Flying Tiger Antiques have been commissioned to sell. We will be listing more from the collection over the coming weeks. CON-AVG-18-15 VFJJX15 LAIGEX3/15 SAJJJX3/16
CONDITION: 8+ (Excellent): Medal shows light to moderate wear and tarnish, nearly all of the enameled details remain intact.
GUARANTEE: As with all my items, this piece is guaranteed original.