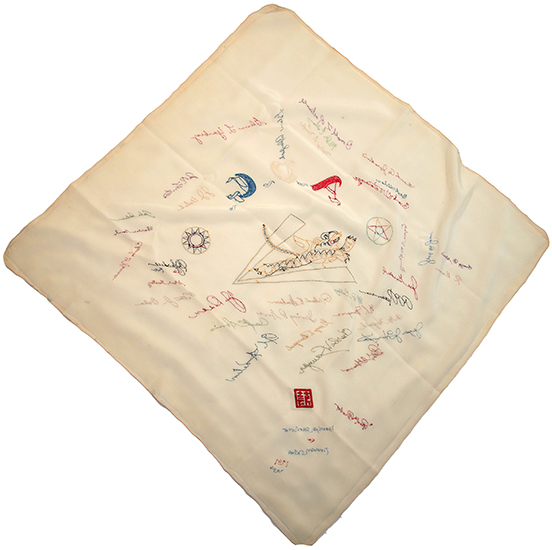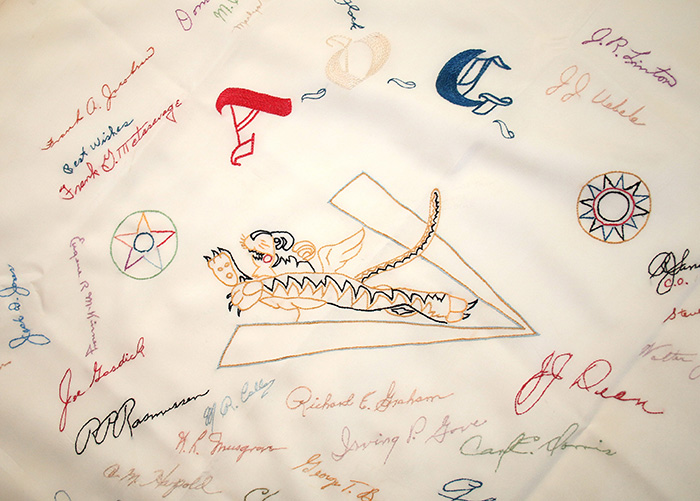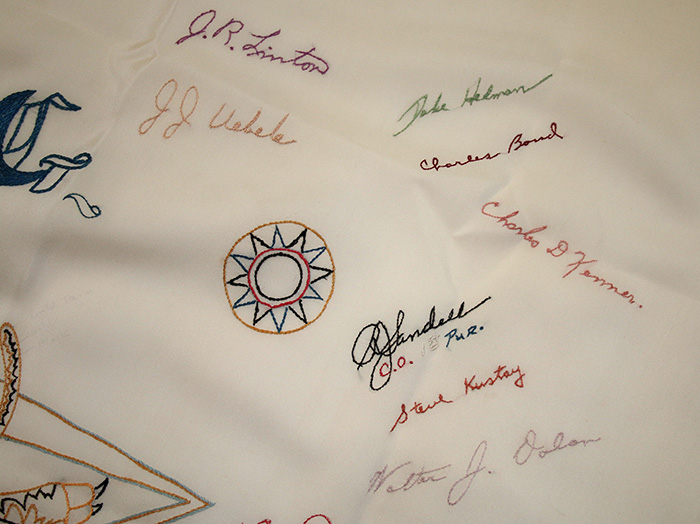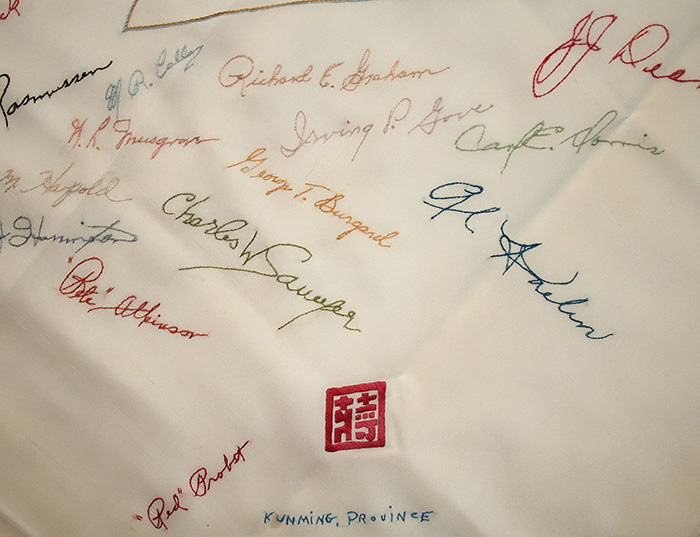 ARTIFACT: Here we have an absolutely beautiful American Volunteer Group souvenir. This piece started life as the famous so-called "Christmas Scarf" given to all of the Flying Tigers by Madame Chiang Kai Shek on December 25th, 1941 at a dinner honoring the group. The Generalissimo Chiang Kai-Shek's "Chop" can be seen in bold red near the bottom of the scarf. Many members of the AVG then took their scarf around and had other members sign their scarves. Later they had a local tailor shop embroider over the signatures, and add the Flying Tigers insignia at center, along with the AVG, Chinese 12 point sun, and USAAF Star above. Often the tiger is fully embroidered, this is the only one I have seen with the tiger outlined only. This scarf bears one signature that raises a question as to when exactly these scarves were presented to AVG members. Near the Generalissimo's signature is that of AVG pilot Peter "Pete" Atkinson. Atkinson was killed in a training crash on October 31st, 1941, moving ahead considerably the time frame that these scarves were presented to the Tigers. Truly a stunning piece, the pictures do it no justice! Among the signers are AVG Pilots: Charles Bond, 7 Kill ACE, George Burgard #3 AVG ACE with 10 Kills, 1st Pursuit Squadron Commander Robert Sandell, AVG ACE with 5 Kills Killed in Crash 7 Feb 42, Charles Sawyer, Albert "Red" Probst, John "JJ" Dean, 3 Kills, Eventual CNAC pilot Killed in Crash 11/42. The scarf is currently framed as shown in the images, but can be shipped unframed to save on shipping charges.
Artifacts that belonged to members of the original Flying Tigers are extremely hard to acquire and rarely come up for sale. Often collectors lucky enough to acquire anything from the AVG will hold onto the pieces for their entire lifetime and families rarely let these artifacts go if they are lucky enough to still possess them. Don't miss this chance to own a true piece of WWII Aviation History.
VINTAGE: Circa December 25, 1941
SIZE: The scarf items measures approximately 27" x 27", roughly 31" x 31" framed.
CONSTRUCTION/MATERIALS: Silk embroidery on silk. Wood & glass frame.
ATTACHMENT: N/A.
MARKINGS: None.
ITEM NOTES: This is from a collection of Flying Tigers artifacts that we here at Flying Tiger Antiques have been commissioned to sell. We will be listing more over the coming weeks. CON-AVG-18-14 LAIIGEX11/14 SLAEIGEX11/15 S(S)VEJJJX3/17
CONDITION: 8+ (Excellent): Scarf shows light aging and minor storage wear.
GUARANTEE: As with all my items, this piece is guaranteed original.