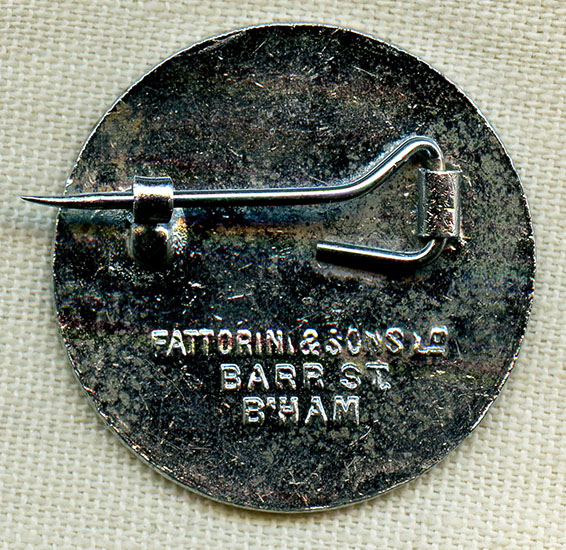 ARTIFACT: 1950's vintage United Kingdom Transatlantic Brides and Parents Association member badge. The center of the badge shows a ship on the ocean and an aircraft flying the sky between North America and Europe and the outer, dark blue ring shows the letters: "T • B • P • A". The reverse shows a maker's mark that reads: "PATTORINI & SONS BARR ST. B'HAM". The TBPA was founded in the late 1940's when men were leaving Britain for America after WWII – the association assisted parents and daughters of GI's in making the transition to America and united them with other daughters and parents for support.
VINTAGE: Circa 1950's
SIZE: Approximately 1-1/8" in diameter
CONSTRUCTION/MATERIALS: Chrome plated brass, enamel
ATTACHMENT: Horizontal British-style kick pin with "C" type catch
MARKINGS: "PATTORINI & SONS BARR ST. B'HAM"
ITEM NOTES: This is from an organization and association collection which we will be listing more of over the next few months. TRVAJX TRAM16 LBHX1/17
CONDITION: 8- (Very Fine—Excellent): The patch shows minor to moderate wear, much of the enamel and plated details remain intact, overall very fine condition.
GUARANTEE: As with all my items, this piece is guaranteed original.