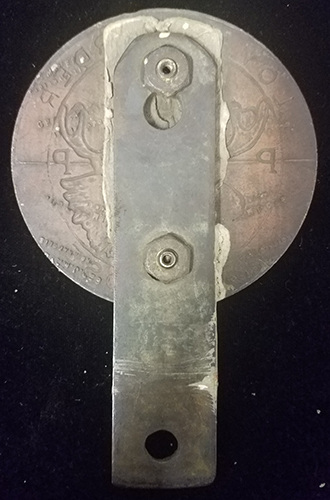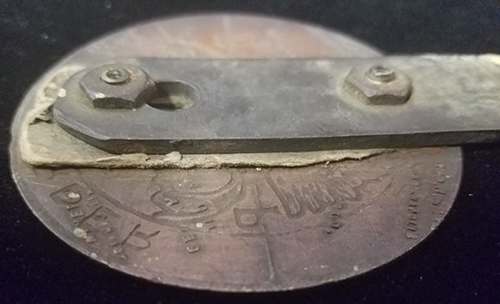 ARTIFACT: This is a 1930's Loyal Order of Moose Auto License Plate Topper made in heavily enameled bronze. It has a blue circle with a moose in it, as well as a clock that reads "9:00" and the letters "P.A.P." The white border around the blue enameled circle has "Loyal Order of Moose written on it. This was made by the Geo J. Meyer Co. out of Indianapolis.
VINTAGE: Ca. 1930's
SIZE: Approximately 4-3/4" x 3" x 3/8"
CONSTRUCTION/MATERIALS: Enameled bronze
ATTACHMENT: None
MARKINGS: Obverse: "LOYAL ORDER OF MOOSE. P.A.P."
Reverse: "GEO. J. MEYER CO. INDIANAPOLIS" ITEM NOTES: This is from a Loyal Order of Moose collection which we will be listing more of over the next few months. VBEL15 LBCEX02/17
CONDITION: 6+ (Fine-Very Fine): Some tarnish and the enamel is cracked in a few places, but the color remains vibrant
GUARANTEE: As with all my items, this piece is guaranteed original, and of the period stated.