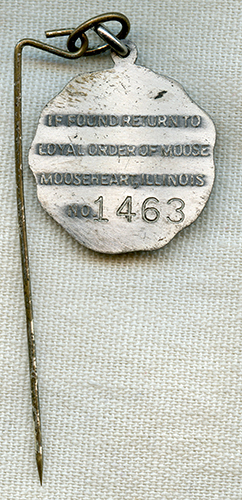 ARTIFACT: This is nice 1938 50th Annual Convention Moose numbered key fob. This fob has the original presentation stick pin on it still. The fob number, as seen on the reverse, is 1463.
VINTAGE: Circa 1938
SIZE: Approximately 2-1/4" x 1"
CONSTRUCTION/MATERIALS: Coin silver and brass pin
ATTACHMENT: Chain link and stick pin
MARKINGS: Obverse: "1938 50TH ANNUAL CONVENTION MOOSE. MOOSEHEART SILVER ANNIVERSARY" Reverse: "IF FOUND RETURN TO LOYAL ORDER OF MOOSE MOOSEHEART ILLINOIS. NO. 1463"
ITEM NOTES: This is from a Loyal Order of Moose collection which we will be listing more of over the next few months. VEX15 LDEX03/17
CONDITION: 6+ (Fine-Very Fine): A decent amount of wear on this fob, including tarnish, which doesn't detract from the obverse, but makes the words on the reverse harder to read.
GUARANTEE: As with all my items, this piece is guaranteed original, and of the period stated.