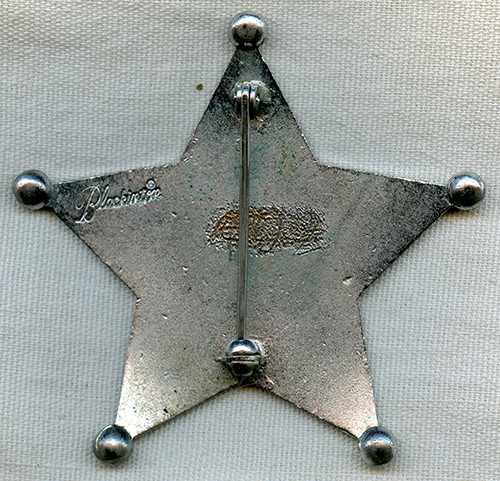 ARTIFACT: This is a cool vintage early 90's Palm Beach County, Florida Deputy Sheriff badge made by Blackinton. This is an older issue badge in the shape of a five pointed star with ball tipped points. It has a control number, 402, but it's partially obscured.
VINTAGE: Circa 1990's
SIZE: Appr: 2-5/8" x 2-5/8"
CONSTRUCTION/MATERIALS: Enameled nickel plated nickel.
ATTACHMENT: Vertical pin with locking over-under catch
MARKINGS: "DEPUTY SHRIFF PALM BEACH COUNTY. FLORIDA. BLACKINTON 402"
ITEM NOTES: This is from a Police Badge collection which we will be listing more of over the next few months. MEJX17 LAGEX7/17
CONDITION: 7 (Very Fine): light to moderate wear, number is obscures, lettering is chipped and dirtied in places.
GUARANTEE: As with all my items, this piece is guaranteed original.