Sterling WWII Aeronca Two Years of Service Pin
Code: aco20000aer
SOLD!!! No Longer Available!
---
Product Description
•••••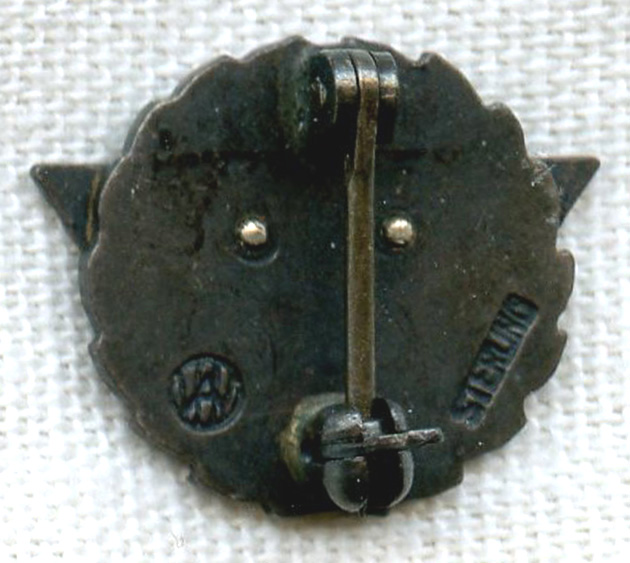 SUBJECT: This is a two years of service lapel pin from Aeronca, a Midwestern aviation company started in 1928. Typically during war time recognition pins were given out even to employees with low numbers of years with a company. This was done to promote morale during hard times among the new work force, some of whom were females working outside the home for the first time. The pin is by Whitehead & Hoag, with a red and blue enameled Deco wing at its center.
VINTAGE: Circa 1944.
SIZE: Approximately 9/16" in length and 11/16" in width.
CONSTRUCTION/MATERIALS: Sterling silver with enamel.
ATTACHMENT: Vertical pin with drop-in swivel locking catch.
MARKINGS: WH (Whitehead & Hoag) makerís mark and STERLING.
ITEM NOTES: This is from an aviation company collection which we will be listing more of over the next few months. VCX3/95 LFJX6/11 SECX01/17
CONDITION: 8- (Very Fine-Excellent): The pin shows only light wear and tarnish.
GUARANTEE: As with all my items, this piece is guaranteed original.