Pre-Prohibition Ca. 1900 Frank Jones Brewery Bronze Keg Tap from Portsmouth, NH
Code: advb00002btf
SOLD!!! No Longer Available!
---
Product Description
•••••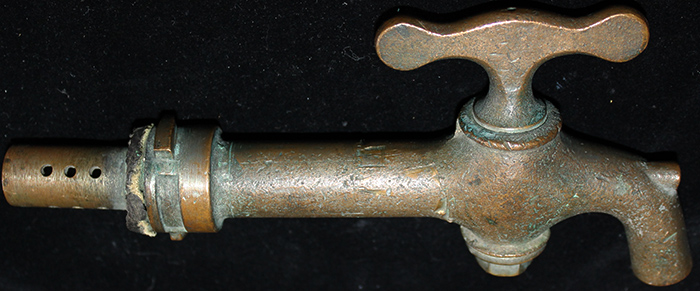 ARTIFACT: Pre-Prohibition circa 1900 Frank Jones Brewery bronze keg tap from Portsmouth, New Hampshire. The screw top handle of the tap reads: "FRANK JONES" and the tap is shaped like a faucet, the handle still turns freely.
VINTAGE: Circa 1900
SIZE: Approximately 7 ½" x 3 ¼"
CONSTRUCTION/MATERIALS: Bronze, rubber
ATTACHMENT: End to be inserted, turned, and locked tight by way of notch cut outs.
MARKINGS: "FRANK JONES"
ITEM NOTES: This is from an advertising collection which we will be listing more of over the next few months. VCEX14 LAAEX7/15 SAJJX6/16
CONDITION: 8 (Excellent-): The tap shows moderate to heavy wear and areas of light oxidation, overall handsome patina.
GUARANTEE: As with all my items, this piece is guaranteed original.