Ext. Rare 1940 Pratt & Whitney Bronze Table Medal from E. Hartford Plant Expansion
Code: aco20020bpw
SOLD!!! No Longer Available!
---
Product Description
•••••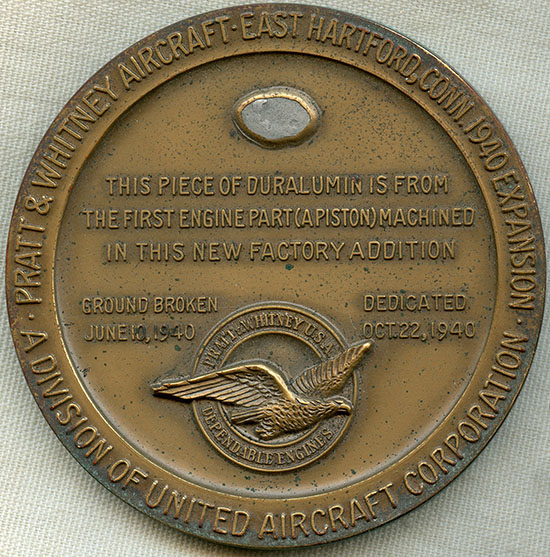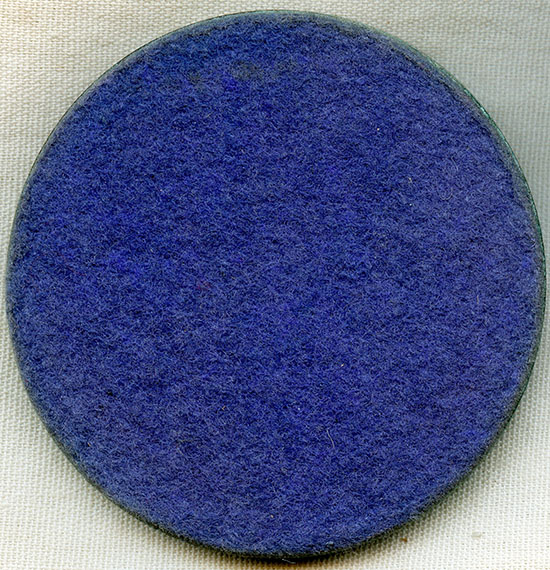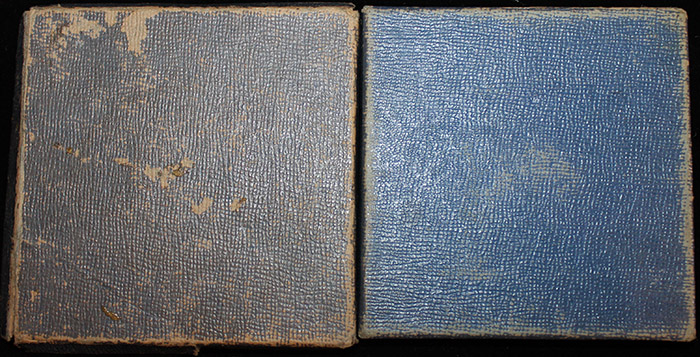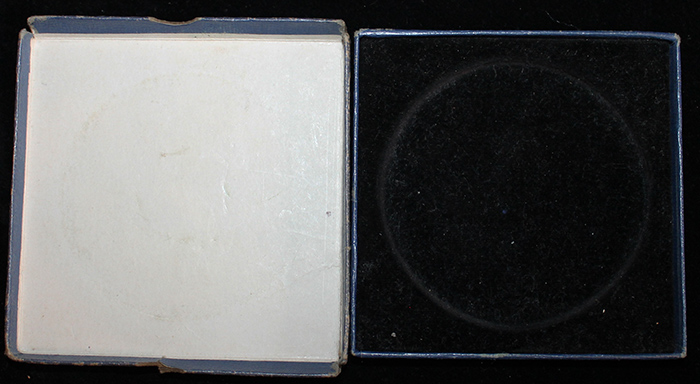 ARTIFACT: Extremely rare 1940 Pratt & Whitney bronze table medal from the East Hartford Plant Expansion. The handsome table medal features a piece of Duralumin bezel set into the top center and below it reads: "THIS PIECE OF DURALUMIN IS FROM THE FIRST ENGINE PART (A PISTON) MACHINED IN THIS NEW FACTORY ADDITION GROUND BROKEN JUNE 10, 1940 DEDICATION OCT. 22, 1940". The bottom center features the company's emblem, an eagle soaring through a circle that reads: PRATT & WHITNEY U. S. A. DEPENDABLE ENGINES". The outside edges of the table medal read: "PRATT & WHITNEY AIRCRAFT – EAST HARTFORD, CONN. 1940 EXPANSION- A DIVISION OF UNITED AIRCRAFT CORPORATION" and the reverse is lined with velvet. This is the only one I have ever seen or heard of.
VINTAGE: Circa 1940
SIZE: Medal: 3" in diameter x ¼"; Box: 4" x 4"
CONSTRUCTION/MATERIALS: Bronze, cardboard, velvet
ATTACHMENT: None.
MARKINGS: None.
ITEM NOTES: This is from an aircraft manufacturing collection which we will be listing more of over the next few months. VCEX15 LCIEX7/15 SCIEX10/16
CONDITION: 7+ (Very Fine+): The medal shows minor wear, the box is well worn, the edges of medal show some green verdigris, (does not detract and can be cleaned off).
GUARANTEE: As with all my items, this piece is guaranteed original.