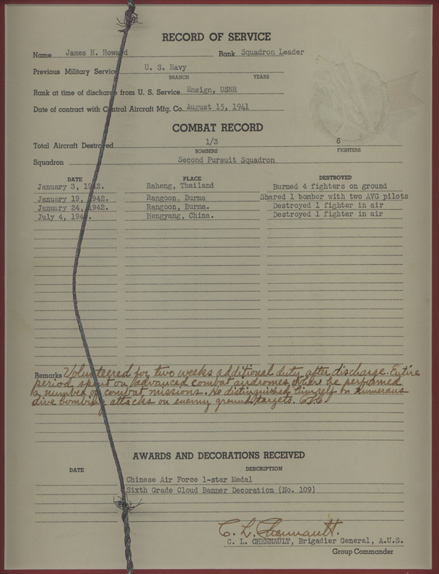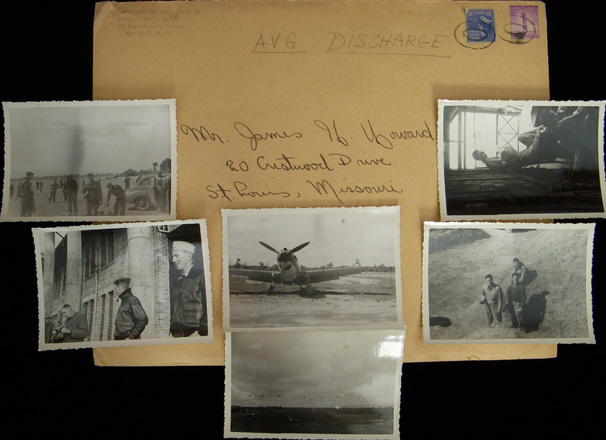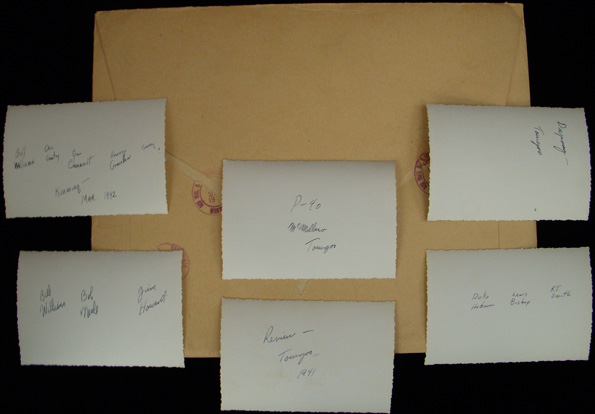 SUBJECT: This is an Extremely Rare original, full size Discharge Certificate from the American Volunteer Group (AVG, Flying Tigers) to Pilot and Vice Squadron Leader James H. Howard for service from August 15, 1941 to July 4, 1942, The images do this document no justice. It comes framed with double glass so the reverse can be read. It is accompanied by 6 period snapshots of the AVG, with notations, and the original envelope it came in. Howard was the only member of the AVG to go on to receive the Medal of Honor as a fighter Ace in the ETO, and the only MOH-winning AVG member who received an Honorable Discharge, and therefore this certificate. Boyington left the AVG in April and was not honorably discharged. The document is hand signed by Chennault with notes in his hand on the reverse, mentioning the 6+ aircraft destroyed by Howard while with the AVG. The front of the certificate is signed by General Claire Chennault, and he filled out the reverse in handwriting with a listing of Howard's awards, victories and a synopsis of his flying time with the AVG. There are also six 3" x 4" photos picturing Howard, DuPouy, Chennault, Hedman, Smith, Bishop, Greenslaw and a few others in China in 1942.
VINTAGE: Circa World War II.
SIZE: Various sizes.
CONSTRUCTION/MATERIALS: Items are of expected materials: Printed paper, metal and glass frame, etc..
ATTACHMENT: N/A.
MARKINGS: N/A.
ITEM NOTES: This is from an American Volunteer Group (AVG, Flying Tigers) collection which we will be listing more of over the next few months. LAEJJJX3/10 reLACEJJX7/10 SAJJJJX11/10
CONDITION: 10- (Near Mint): Overall the items are in excellent condition, the Discharge is almost like new. The only piece with any wear is the envelope that protected the Discharge for all those years until the last owner had it framed.
GUARANTEE: As with all my items, this piece is guaranteed original.