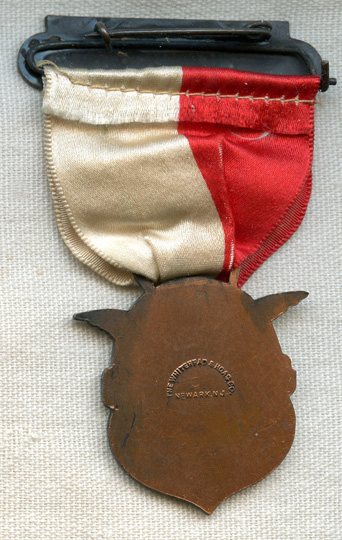 ARTIFACT: This is a rare 1919 delegate badge from the 24th reunion of the Sons of Confederate Veterans (SCV). Formed in 1896 and still active today, the SCV is made up of men whose ancestors served honorably for the Confederate armed forces. The reunion that year was held at Atlanta, Georgia. The badge is in excellent condition and was made by Whitehead & Hoag Company of Newark, New Jersey.
VINTAGE: Circa 1919.
SIZE: Approximately 2-15/16" in height and 1-13/16" in width.
CONSTRUCTION/MATERIALS: Bronze/copper-plated brass, silk.
ATTACHMENT: Horizontal safety-style pin on bar, ribbon.
MARKINGS: THE WHITEHEAD & HOAG CO. NEWARK, N.J.
ITEM NOTES: This is from a Confederate Veteran collection which we will be listing more of over the next few months. VEJX13 LCGEX9/13
CONDITION: 8 (Excellent-): The badge is in excellent condition.
GUARANTEE: As with all my items, this piece is guaranteed original.