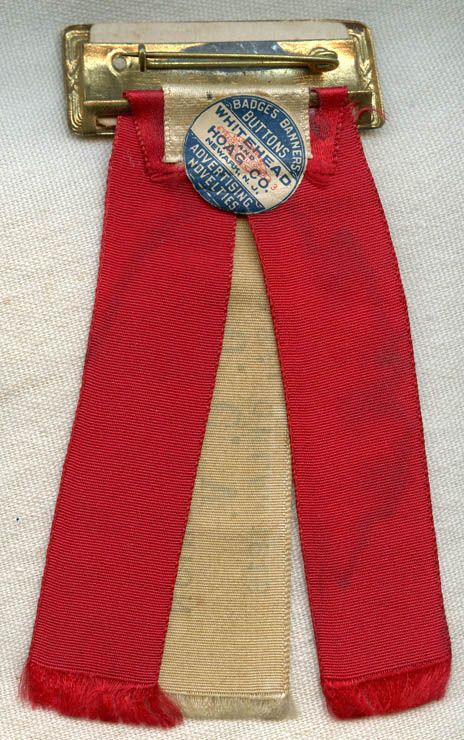 ARTIFACT: This is a rare 1918 Maid of Honor badge for the 28th reunion of the United Confederate Veterans (UCV), the Confederate answer to the Union's Grand Army of the Republic formed in 1889. The reunion that year was held at Tulsa, Oklahoma. The badge was made by Whitehead & Hoag of Newark, New Jersey and has a maker label still affixed to the reverse. This badge came to us along with some other items from the 1918 reunion, all from the same unnamed veteran (sold separately: please see link at bottom of page for more information).
VINTAGE: Circa 1918.
SIZE: Approximately 4-3/8" in height and 2" in width (across top).
CONSTRUCTION/MATERIALS: Celluloid, gilt brass, paper. silk.
ATTACHMENT: Horizontal safety-style pin on bar.
MARKINGS: BADGES BANNERS AND BUTTONS WHITEHEAD & HOAG CO. NEWARK, N.J. ADVERTISING NOVELTIES.
ITEM NOTES: This is from a Confederate Veteran reunion collection which we will be listing more of over the next few months. ebay VAJX13 LAGEX9/13 SeBJEX5/15
CONDITION: 7 (Very Fine): The badge some light wear only with an area of minor staining to one section of the ribbon.
GUARANTEE: As with all my items, this piece is guaranteed original.