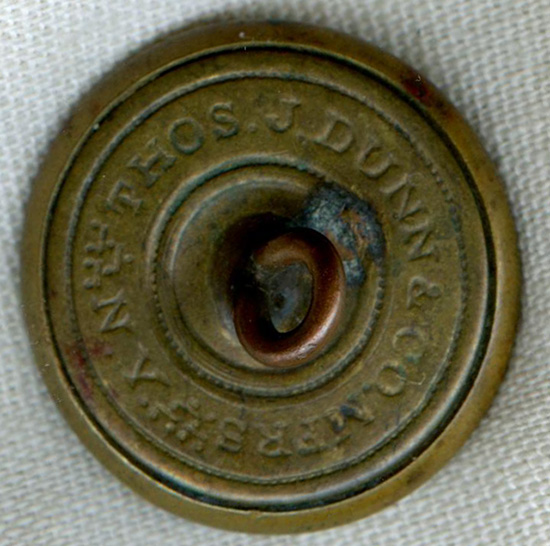 ARTIFACT: 1890's United Confederate Veterans (UCV) Uniform Button by Dunn. Formed in 1889, the UCV was the Confederate answer to the Union's Grand Army of the Republic. The button features an embossed confederate flag and below it reads: "1861 – 65", the letters: "U", "C", and "V" surround the flag. The reverse reads: "THOS J. DUNN & CO. MFRS. N.Y.".
VINTAGE: Circa 1890's
SIZE: Approximately 1" in diameter.
CONSTRUCTION/MATERIALS: Brass.
ATTACHMENT: Loop.
MARKINGS: "THOS J. DUNN & CO. MFRS. N.Y.".
ITEM NOTES: This is from a Confederate Veterans collection which we will be listing more of over the next few months. VBEX12 LHEX5/15
CONDITION: 8+ (Excellent): The badge shows minor to moderate wear, with the exception of a few flakes, nearly all the painted details remain intact. The silk lining in the box is heavily worn and shows separation of the silk (see photo).
GUARANTEE: As with all my items, this piece is guaranteed original.