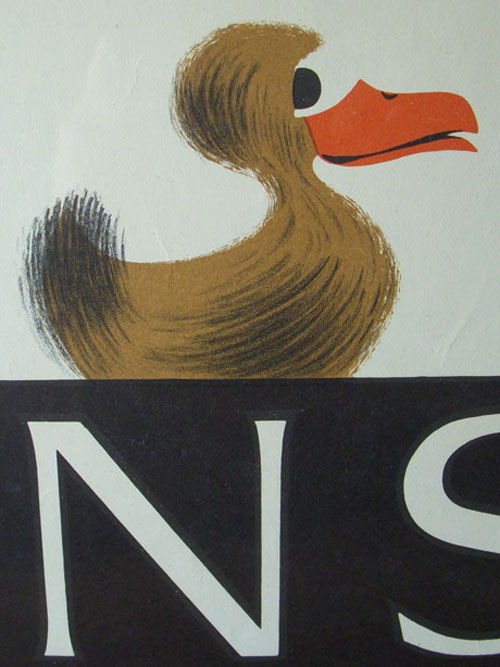 SUBJECT: This is a striking 1950s vintage travel poster for Odense, Denmark by Viggo Vagnby. The mother of the subject of Hans Christian Andersen's "The Ugly Duckling" really pops against a black background, while the duckling and a lady bug are more minor players in the scene.
VINTAGE: Circa 1950s.
SIZE: Approximately 39" in height by 24-3/16" in width (not including foam board).
CONSTRUCTION/MATERIALS: Paper.
ATTACHMENT: None.
MARKINGS: VAGNBY; HAGEN & SORENSEN ODENSE; PRINTED IN DENMARK.
ITEM NOTES: This poster will be shipped unwrapped and rolled without the foam board, unless arrangements are made for pick-up or special shipping to preserve the shrink wrap mounting. This is from a United States Army Air Forces collection which we will be listing more of over the next few months. VAJX93 LBDEX11/11
CONDITION: 8- (Very Fine-Excellent): The poster is in great condition with only some minor creasing, a few minor fissures along the edge and a very small spot of discoloration on the mother's head.
GUARANTEE: As with all my items, this piece is guaranteed original.