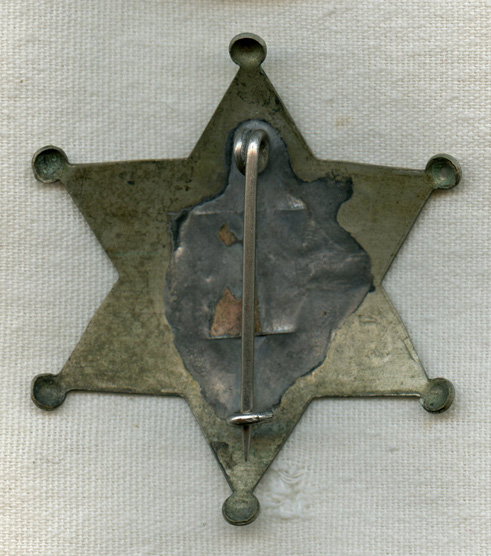 SUBJECT: This is a "stock" deputy constable five-pointed star badge with a decorative detail at center somewhat resembling pared-down fleurs-de-lis.
VINTAGE: Circa 1900.
SIZE: 2-1/2" height and 2-3/16" width.
CONSTRUCTION/MATERIALS: Nickel-plated brass with painted lettering.
ATTACHMENT: Vertical safety-style pin with "C" catch and saddle.
MARKINGS: Possibly a "T".
ITEM NOTES: This is from a police collection which we will be listing more of over the next few months. MBEX10 LCIEX8/10
CONDITION: 8 (Excellent-): Badge has some small spots of light wear and tarnish.
GUARANTEE: As with all my items, this piece is guaranteed original.