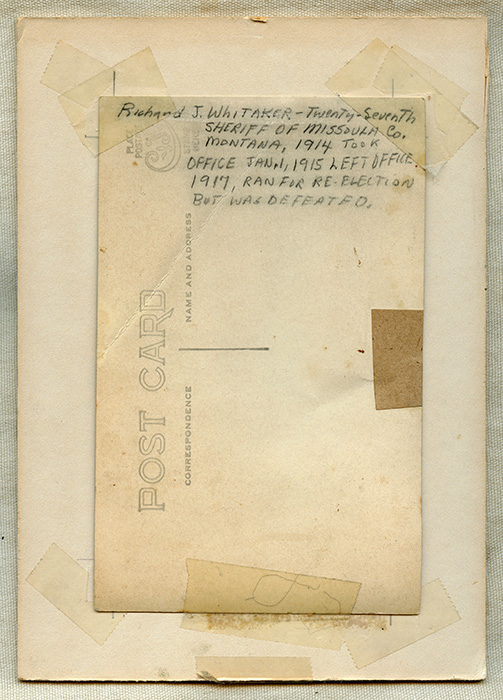 ARTIFACT: Nice circa 1915 Real Photo Post Card (RPPC) of Missoula, Montana City Marshal Richard J. Whitaker. The photo shows the City Marshal seated, legs crossed wearing a suit jacket and large 6-point 'City Marshal' badge both visible and readable and his Colt single action rests on the table by his side. The RPPC is in an old matte and the reverse reads: "RICHARD J. WHITAKER – TWENTY SEVENTH SHERIFF OF MISSOULA CO. MONTANA, 1914 TOOK OFFICE HAN 1, 1915 LEFT OFFICE 1917, RAN FOR RE-ELECTION BUT WAS DEFEATED" in penciled handwriting.
VINTAGE: Circa 1915
SIZE: Approximately Matte: 5" x 7"; RPPC: 3-1/2" x 5-1/2"
CONSTRUCTION/MATERIALS: RPPC, matte, pencil
ATTACHMENT: The reverse shows tape attaching the RPPC to the matte.
MARKINGS: "POST CARD CORRESPONDENCE NAME AND ADDRESS", "PLACE POSTAGE STAMP HERE"
ITEM NOTES: This is from An Old West lawman collection which we will be listing more of over the next few months. VEJX16 LCEJX3/16
CONDITION: 6+ (Fine—Very Fine): The RPPC shows moderate wear, crease (viewer's right corner), and tape residue on reverse, overall very fine condition.
GUARANTEE: As with all my items, this piece is guaranteed original.