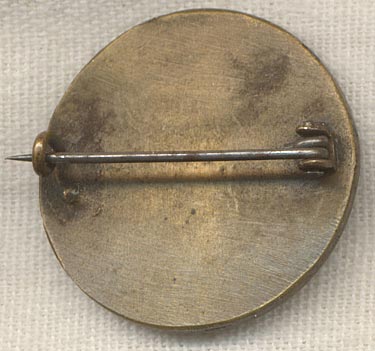 SUBJECT: This is a World War I era French Boy Scouts badge. This is another variant of French Scout: the "Eclaireur". The only difference between Scout and Eclaireur is that the Eclaireur is not religious. The badge reads TOUT DROIT (straight) and shows a rather muscular forearm with a drawn bow and arrow pointing skyward, Les Eclaireurs de France. C'est un insigne de l'époque de la Première Guerre mondiale pour Les Eclaireurs de France. Ceci est une autre variante du scout français: l'Eclaireur. La seule différence entre "Scout" et "Eclaireur" est que l'Eclaireur n'est pas religieux. Le badge lit TOUT DROIT et montre un avant-bras plutôt musclé avec un arc et une flèche pointant vers le ciel, et lit "Les Eclaireurs de France" au sommet.
VINTAGE: Circa World War I. Circa la Première Guerre mondiale.
SIZE: About 1-1/8" in diameter. Environ 2.9 cm de diamètre.
CONSTRUCTION/MATERIALS: Plated brass. Laiton plaqué.
ATTACHMENT: Horizontal pin with a "C" catch. Axe horizontal avec un "C" attraper.
MARKINGS: None. Rien.
ITEM NOTES: This is from a French collection which we will be listing more of over the next few months. C'est à partir d'une collection de pièces françaises qui nous sera d'annonce plus sur les prochains mois. VBEX02 LFEX
CONDITION: 7 (Very Fine): The badge shows very minor wear and moderate tarnishing. 7 (Très beau): Le badge présente une usure très mineures et modérées ternir.
GUARANTEE: As with all my items, this piece is guaranteed original. Comme avec tous mes articles, cette pièce est garantie d'origine.