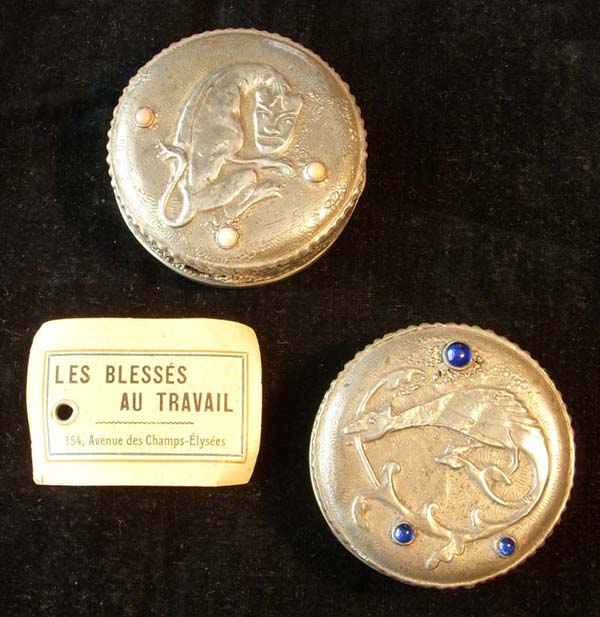 ARTIFACT: This pair of charming and beautiful leaded tin boxes was made by a French soldier in a work program for the wounded. Each box is engraved on the bottom with the soldier's name and battalion, P. Foussard of the 1st infantry hunter battalion, the date and place he was wounded, the 15th November 1914 in Belgium, and the type of his injury: loss of his right leg. One of the boxes also contains a tag from the work program. It appears from the tag that the program was centered or that the boxes were sold at Champs-Élysées, and the back of the tag lists the soldier's name, battalion, injury, and the date of his injury again. Foussard was most likely wounded at the battle of Ypres in the last days of the race to the sea.
VINTAGE: Early World War I..
SIZE: Each box measures 2 1/4" in diameter, and 1" in height.
CONSTRUCTION/MATERIALS: Tin boxes with lead and none-precious stone decorations.
ATTACHMENT: A paper tag is set inside one of the boxes. The front of the tag reads: "Les blessés au travail, 154 Avenue des Champs-Élysées" (Wounded at work, 154, Avenue des Champs-Élysées). The back reads:"Cet objet a été exécuté par le soldat Foussard, 1er bataillon chasseur blessé le 15 Novembre 1914 a en Belgique" (This object was made by the soldier Foussard, 1st "hunter" battalion Wounded on the 15th November 1914 at in Belgium).
MARKINGS: Each box is engraved with the following: "P. Foussard 1er Bllon chasseur a Pied, blessé en Belgique, 15 Novembre 1914 Desarticulé de la jambe droite (P. Foussard, 1st infantry "hunter" battalion, wounded in Belgium 15th November 1914, disarticulation of the right leg).
ITEM NOTES: This is from a large collection of French items which we will be listing more of over the next months. ebay VEJX04 LBEJX SLAFEX6/16 SAFEX3/17.
CONDITION: 8+ (Excellent) This pair of boxes shows some wear but both boxes are generally in an excellent condition.
GUARANTEE: As with all my items, this piece is guaranteed original.