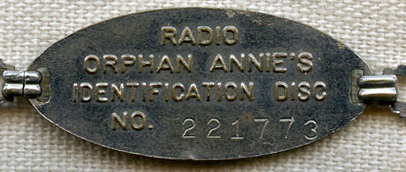 ARTIFACT: This is a scarce Radio Orphan Annie identification bracelet showing the initial "A". The bracelets were a promotional item distributed by Ovaltine for the radio show's November 20, 1940 broadcast. The initial on front corresponded to the first letter of the listener's name, and the serial number on the reverse was filed with the Orphan Annie Identification Bureau.
VINTAGE: Circa 1940.
SIZE: Approximately 1/2" in height and 6-5/8" in length.
CONSTRUCTION/MATERIALS: Plated white metal.
ATTACHMENT: Links, locking clasp.
MARKINGS: 221773.
ITEM NOTES: This is from a radio-related collection which we will be listing more of over the next few months. ebay RAJL LDEX9/12
CONDITION: 7+ (Very Fine+): The bracelet has some light wear.
GUARANTEE: As with all my items, this piece is guaranteed original.