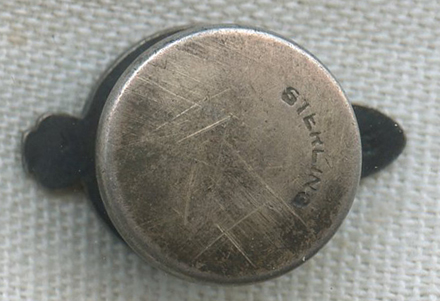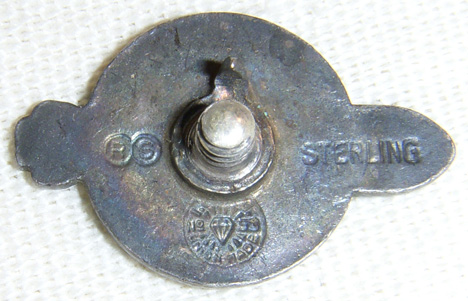 ARTIFACT: This is a rare World War II United States Merchant Marine "Torpedoed" lapel pin as issued to the members of the Marine Firemen, Oilers and Wipers (M.F.O.W.) Union in the Pacific Theatre. The pin is in enameled sterling silver.
VINTAGE: Circa World War II.
SIZE: Approximately 1/2" in height and 13/16" in width.
CONSTRUCTION/MATERIALS: Sterling silver, enamel.
ATTACHMENT: Single screw post with sleeved disc backing, stabilization post.
MARKINGS: Maker mark (R & S, each in a separate circle), union mark, STERLING on back of pin; STERLING on backing.
ITEM NOTES: This is from a United States Merchant Marine collection which we will be listing more of over the next few months. TRVBCJX13 LCGEX8/13 SCEJX2/14
CONDITION: 8- (Very Fine-Excellent): The pin has little wear.
GUARANTEE: As with all my items, this piece is guaranteed original.