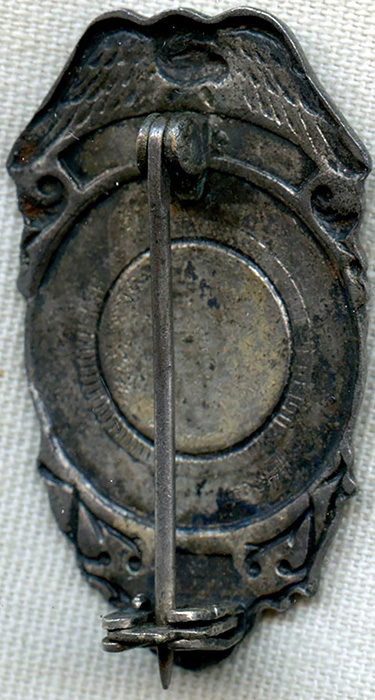 ARTIFACT: WWII United States Maritime Commission Agent Wallet Badge in silver plated steel. The center of the badge features the number "28" and surrounding it reads: "U. S. MARITIME COMMISSION" with an eagle perched at the top.
VINTAGE: Circa WWII
SIZE: Approximately 1 ¾" x 1"
CONSTRUCTION/MATERIALS: Wartime material, silver plated steel
ATTACHMENT: Vertical pin with drop in locking catch.
MARKINGS: None.
ITEM NOTES: This is from a Maritime collection which we will be listing more of over the next few months. CON-RHS-25-15 LDGEX6/15 RET7/16
CONDITION: 6 (Fine+): The badge shows moderate wear, some of the painted and silver plating details remain intact.
GUARANTEE: As with all my items, this piece is guaranteed original.