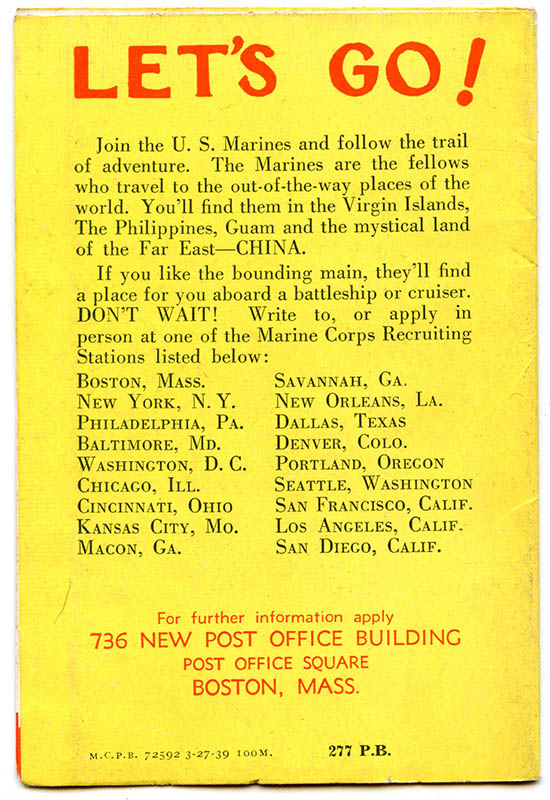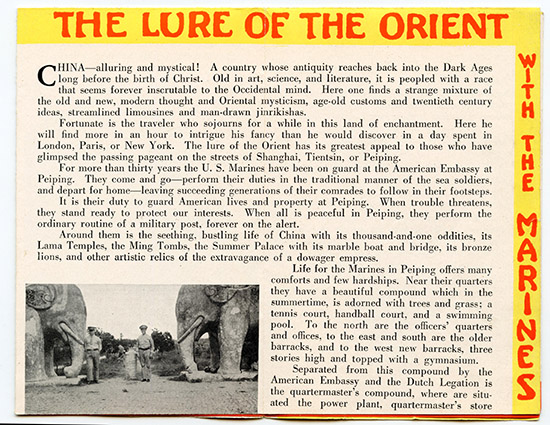 ARTIFACT: Scarce, wonderful 1939 United States Marine Corps "China Marines" recruitment brochure. The brochure describes a short history of the China and Japan controversies, a brief look at the lifestyle and sports offerings for the Marine's. The brochure regards time spent in China as a life changing experience full of stories "to bring home". It contains great black and white images and finishes with: "No wonder Marines thrill to the magic words, "All aboard for China." It's one of the last remaining gateways to a land chock-full of novel sights and adventure." The brochure encourages interested enlistees to apply at: 736 New Post Office Building, Post Office Square – Boston, Mass. The reverse also features a list of additional recruiting stations around the country and the date of print "3-27-39".
VINTAGE: Circa 1939
SIZE: Approximately 5 ½" x 3 ¼"
CONSTRUCTION/MATERIALS: Paper, colored print ink
ATTACHMENT: None.
MARKINGS: M.C.P.B. 72592 3-27-39 100M 277 P.B.
ITEM NOTES: This is from a USMC collection which we will be listing more of over the next few months. VAJX01 LHEX1/15 SDJX11/16
CONDITION: 9- (Excellent+): The brochure shows little wear, no bends, rips or tears. Colors remain bright with no real fading.
GUARANTEE: As with all my items, this piece is guaranteed original.