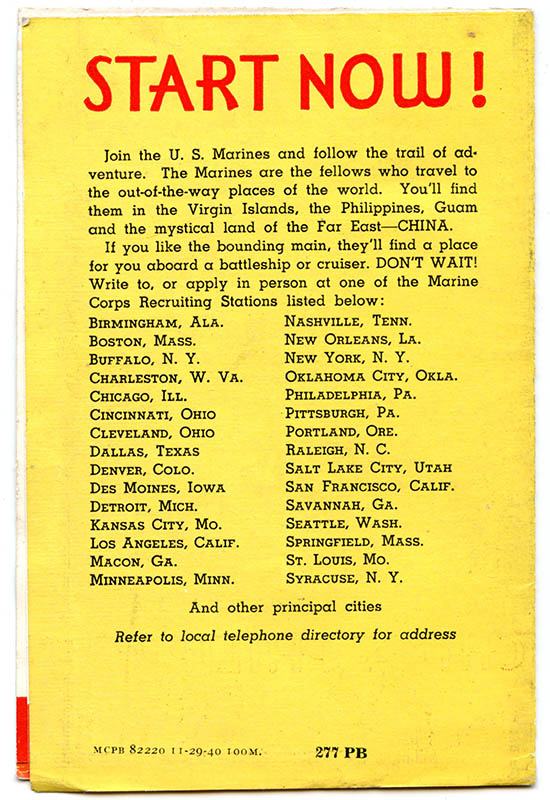 ARTIFACT: Scarce, wonderful 1940 United States Marine Corps "China Marines" recruitment brochure. The brochure describes a short history of the China and Japan controversies, a brief look at the lifestyle and sports offerings for the Marine's. The brochure regards time spent in China as a life changing experience. "Thousands of Marines have gone there, and have come back home, bringing with them a knowledge of the country that cannot be gleaned from books, and carrying in their sea-bags quaint curios they have picked up in Peiping, Shanghai, or Tientsin". The reverse features a small list of recruiting stations around the country, and date of print "11-29-40".
VINTAGE: Circa 1940
SIZE: Approximately 5 ˝" x 3 ˝"
CONSTRUCTION/MATERIALS: Paper, colored print ink
ATTACHMENT: None.
MARKINGS: M.C.P.B. 82220 11-29-40 100M 277 P.B.
ITEM NOTES: This is from a USMC collection which we will be listing more of over the next few months. VAJX01 LHEX1/15 SCEX11/16
CONDITION: 9- (Excellent+): The brochure shows little wear, no bends, rips or tears. Colors remain bright with no real fading.
GUARANTEE: As with all my items, this piece is guaranteed original.