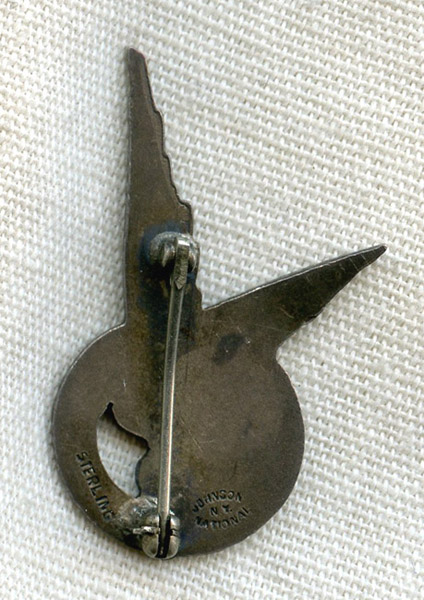 ARTIFACT: This is a rare circa 1940 Women Flyers of America "Wing" badge. The Women Flyers of America were one of the 2 major wartime flying groups for women (the other being the 99's), many of their members flying transport of essential war materials and medical supplies and personnel for an already taxed aviation transport community. The organization existed from 1940 to 1954, but the craftsmanship and drop-in locking catch on this piece point to a period of manufacture of the earliest time of existence of this organization. I have only seen 2 of these badges offered for sale: it truly is a rare badge and an excellent addition to a WWII Women's Aviation collection.
VINTAGE: Circa 1940.
SIZE: About 3/4" in width by 1-3/8" in height.
CONSTRUCTION/MATERIALS: Sterling silver with blue enamel.
ATTACHMENT: Vertical pin with a "drop-in" locking catch.
MARKINGS: STERLING JOHNSON NATIONAL N.Y.
ITEM NOTES: This is from an early aviation collection which we will be listing more of over the next few months. ebay VAJJX06 LFGEX S(1)FGEX4/14
CONDITION: 9 (Very Fine+): Very minor wear and tarnishing.
GUARANTEE: As with all my items, this piece is guaranteed original.