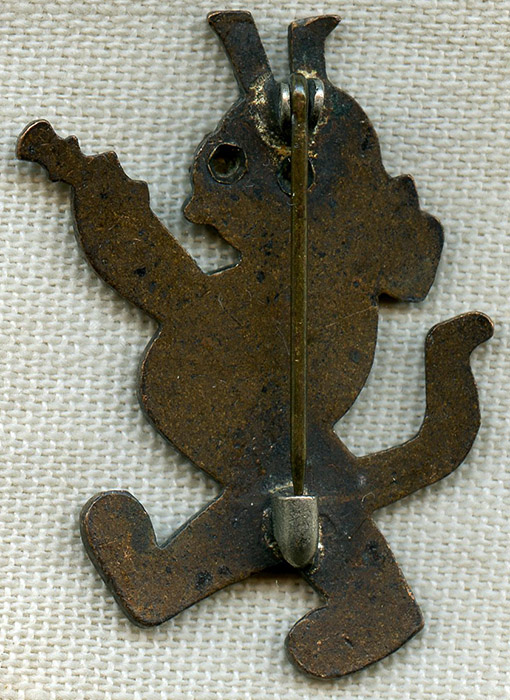 ARTIFACT: Wonderful circa 1930 Krazy Kat enameled pin. This example features great, faux ruby eyes and shows Krazy Kat playing the banjo in black and white enamel detail and wearing a red scarf. Krazy Kat is a character in a newspaper comic strip by George Herriman, which ran from 1913 to 1944. The phrase "Krazy Kat" originated in The Dingbat Family comic because of the mouse's description of their cat. The strip focuses on the relationship between Krazy Kat and Ignatz, a grumpy mouse that holds all of Krazy's affections.
VINTAGE: Circa 1930
SIZE: Approximately 1-7/8" x 1-3/8"
CONSTRUCTION/MATERIALS: Enameled brass, faux ruby
ATTACHMENT: Vertical pin with 'C' type catch
MARKINGS: None.
ITEM NOTES: This is from a newspaper comic collection which we will be listing more of over the next few months. MCX16 LHEX5/16
CONDITION: 5+ (Fine-): The pin shows moderate wear to heavy wear and enamel loss, the faux ruby eyes and some of the enamel details remain intact.
GUARANTEE: As with all my items, this piece is guaranteed original.