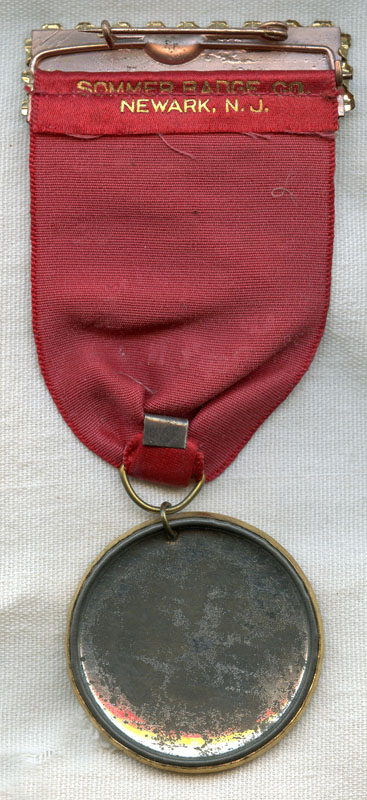 ARTIFACT: This is a circa early 1900's or 1910's parade ribbon for the GAR (Grand Army of the Republic) Captain Henry Post, No. 97 of Belvidere, New Jersey. The red ribbon with a celluloid medallion at the bottom was worn to identify the wearer as a fireman. The ribbon was made by Sommer Badge Company of Newark, New Jersey.
VINTAGE: Circa early 1900's-1910's.
SIZE: Approximately 5" in height and 2-1/4" in width.
CONSTRUCTION/MATERIALS: Silk, plated brass, gilt brass, celluloid, paper insert.
ATTACHMENT: Horizontal safety-style pin on bar, suspension loop.
MARKINGS: SOMMER BADGE CO, NEWARK, N.J.
ITEM NOTES: This is from a fire and rescue collection which we will be listing more of over the next few months. ebay MEX12 LIEX7/13 SLFEX9/16
CONDITION: 8- (Very Fine-Excellent): The badge has light wear and tarnish only.
GUARANTEE: As with all my items, this piece is guaranteed original.