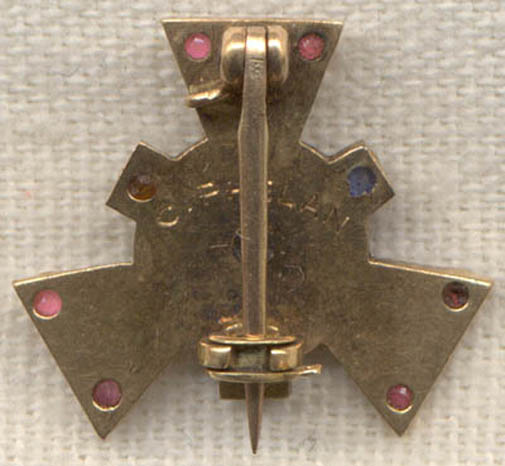 ARTIFACT: This is an 1876 Alpha Chi Sigma fraternal pin of C. Phelan with beautifully enameled letters and numbers and jeweled accents.
VINTAGE: Circa 1876.
SIZE: About 3/4" in width by 3/4" in height.
CONSTRUCTION/MATERIALS: 14kt gold (1.5 dwt) with enamel and ruby, sapphire, pearl and diamond accent.
ATTACHMENT: Vertical pin with a "drop-in" locking catch.
MARKINGS: C. PHELAN.
ITEM NOTES: This is from a large fraternal, collegiate and schools collection which we will be listing more of over the next few months. Ebay VAB/IB98 LCJJX
CONDITION: 9- (Excellent+): Very minor wear and slight tarnishing on back.
GUARANTEE: As with all my items, this piece is guaranteed original.