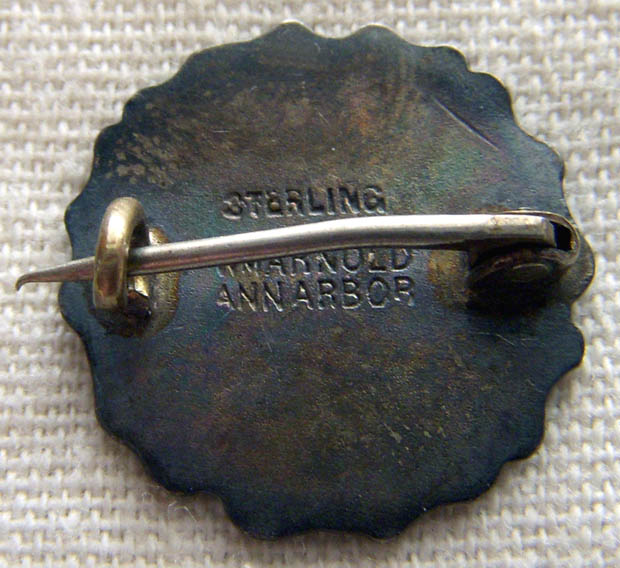 SUBJECT: This is a circa 1890s - early 1900s Tabor College school pin in sterling silver. The Christian college was founded along the lines of a school in Oberlin, Ohio, and began as a literary institute before officially becoming Tabor College in 1866. The school failed financially in the late 1920s, and some buildings were used to house German prisoners of war during World War II. The pin is enameled in orange and reads SIGILLUM-COLLEGII-TABORINI-REIP-IOVAE (Seal of the Tabor College of the Commonwealth of Iowa) and shows a cross at its center.
VINTAGE: Circa 1890s - early 1900s.
SIZE: Approximately 3/4" in diameter.
CONSTRUCTION/MATERIALS: Sterling silver with enamel, brass pin.
ATTACHMENT: Horizontal pin with C catch.
MARKINGS: STERLING WM. ARNOLD ANN ARBOR.
ITEM NOTES: This is from a school-related collection which we will be listing more of over the next few months. VAX98 VFJX1/11
CONDITION: 7+ (Very Fine+): The pin has a moderate overall tarnish and a couple of very small areas of the enamel have come off.
GUARANTEE: As with all my items, this piece is guaranteed original.