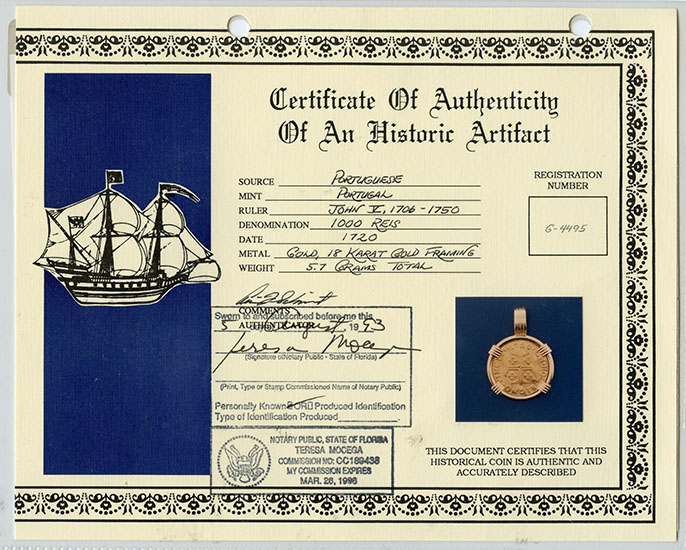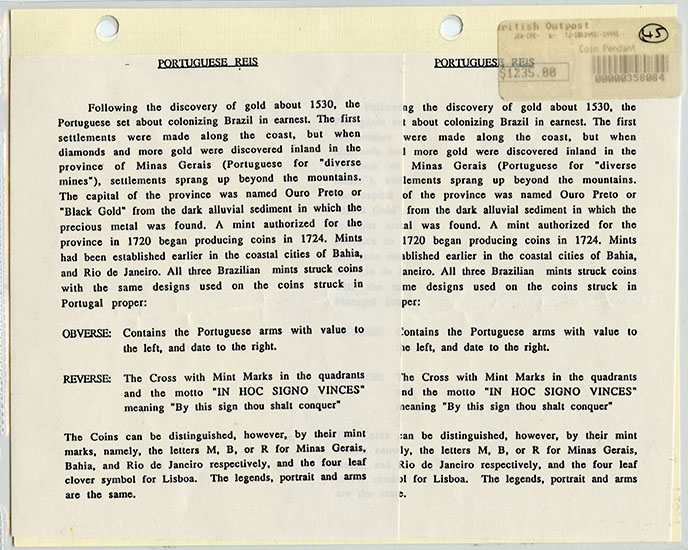 ARTIFACT: Beautiful circa 1720 Portuguese 1000 Reis gold coin set in an 18K gold pendant frame with Certificate of Authenticity. The front of the coin shows the Portuguese arms and the reverse shows the Cross in the center with Mint Marks in each of the four sections. The outer edge of the reverse reads "IN HOC SIGNO VINCES" meaning "By this sign thou shalt conquer" and the top center shows the year: "1720", the coin and pendant weigh a total 5.7 grams. Minted under the ruler John V, this was the first authorized for the province of Minas Gerais. The Certificate of Authenticity shows that this coin pendant was originally sold in August of 1993 for $1235.00 and was notarized in the state of Florida registered as number: "G-4495". The Authenticator's Comments read: "Source: Portuguese – Mint: Portugal – Ruler: John V, 1704 – 1750 – DENOMINATION: 1000 Reis – Date: 1720 – Metal: Gold, 18 Karat Gold Framing – Weight: 5.7 Grams Total" and below is signed by the Authenticator.
VINTAGE: Circa 1720
SIZE: Approximately Coin: 1-1/8" x 3/4"; COA: 8-3/16" x 6-5/8"
CONSTRUCTION/MATERIALS: Gold coin, 18K gold framing; paper, color facsimile of coin, pen ink, stamp ink
ATTACHMENT: Loop
MARKINGS: "Sworn to and subscribed before me this 5 day of August, 1993", "NOTARY PUBLIC, STATE OF FLORIDA, TERESA MOCEGA COMMISSION NO: CC189438 MY COMMISSION EXPIRES MAR. 28, 1996", "G-4495", "BRITISH OUTPOST COIN PENDANT $1235.00", "THIS DOCUMENT CERTIFIES THAT THIS HISTORICAL COIN IS AUTHENTIC AND ACCURATELY DESCRIBED"
ITEM NOTES: This is from an antique coin collection which we will be listing more of over the next few months. CON-EDK-25-16 LFGEX8/16
CONDITION: 9- (Excellent+): The pendant shows little to no wear, the coin shows mild wear under magnification, overall excellent condition.
GUARANTEE: As with all my items, this piece is guaranteed original.